Teak, Mahogany dead at Kanatte – to make furniture
View(s):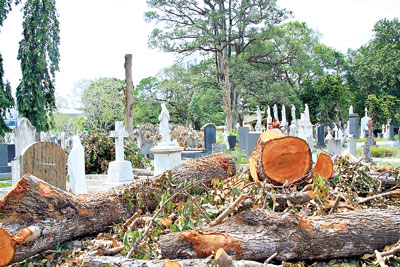 At least 13 Teak and 2 Mahogany trees at the Borella General Cemetery's Roman Catholic section were cut down on Friday and yesterday, for a variety of reasons including that some trees were old and a threat to visitors, while other trees were needed for timber, as they had reached maturity.
A cemetery keeper said they had to remove some of the trees as their branches tended to fall on monuments and also topple on graves, exposing the bodies in them.
He explained that, Archbishop's House had granted permission while the Colombo Municipal Council (CMC) too had given the nod to cut down the trees.
"The timber will be given to a contractor to turn out furniture for Churches," he added.
A spokesman for Archbishop's House said they gave the "Go Ahead" to cut down some of the trees as they had 'come of age' and were taking up too much space, while some others were damaging monuments.
"The timber will be given to a contractor and the profits will be collected by the Archbishop's House," he said.
The CMC's Chief Medical Officer, Dr Ruwan Wijeyamuni said that, both the Anglican and Roman Catholic churches have authority over their respective sections of the Borella cemetery.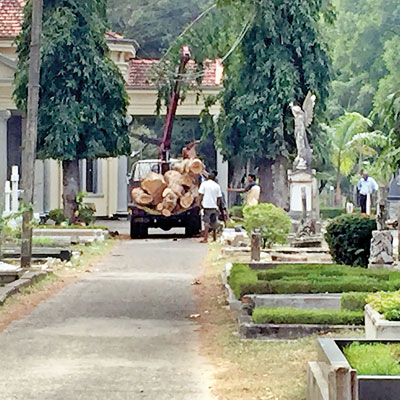 He said that, Archbishop's House had in fact requested for the trees to be cut down during the tenure of the former Colombo Mayor, on the grounds they cause damage and obstruction at the cemetery.
Dr Wijeyamuni said the CMC had granted permission to cut down the trees on condition they are replaced with new saplings.
"They can do as they please with the trees, as they have authority over trees they planted years back," he said.