Public get a bellyful of endless street demos
View(s):

Long traffic queues, patients missing their medical appointments, bus and taxi drivers losing income and people being held up on the roads in the scorching sun are becoming a way of life in various parts of the country due to a string of protests during the past few weeks.

Last month alone, 24 protests were held in Colombo while this month has seen nine protests to date while dozens of others have been held elsewhere, blocking some of the key roads for three to four hours.

For the past several weeks, estate workers have been engaged in industrial action to obtain a wage increase of Rs.1,000. More protests are expected in coming days.

Teachers, port workers, pensioners, unemployed graduates and a group of residents in Ja Ela were among those who protested in various parts of the country this month on issues such as salaries of teachers, leasing a terminal at the Colombo Port to a foreign company, pension anomalies, recruitment of graduates to the state sector and attempts to transport garbage from Meethotamulla to Ja-Ela.

While all citizens have a right to protest there is concern among authorities that aggressive actions of protestors are causing severe inconvenience to the public. Police find that most protests take place either during mid-afternoon, around the time schools close, or closer to evening rush-hour, resulting in massive traffic jams.

Emergency vehicles such as ambulances and fire engines also end up being caught in the traffic chaos. Furthermore, the protests cause economic damage as most are held in Colombo, the country's economic and administrative hub.

About 600,000 vehicles enter Colombo daily, transporting some two million people. The chaos that ensues when one of the city's main roads is blocked off is plain to see from the giant traffic jams that occur during a protest. People using public transport are among the worst hit.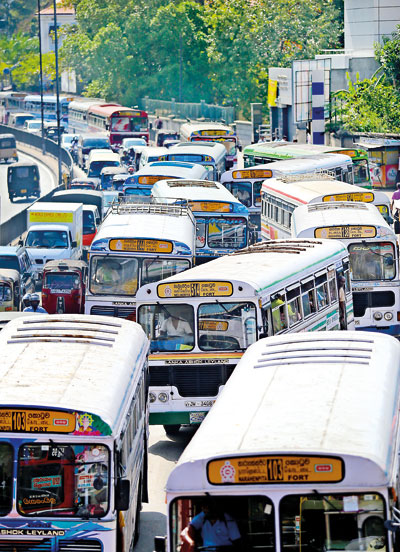 Private bus owners say they too are severely affected by the wave of protests. Gemunu Wijeratne, President of the Lanka Private Bus Owners' Association (LPBOA) estimated that protests had cost private bus owners a combined loss of around Rs.100 million during the past 18 months.
In July, the LPBOA complained to both the Inspector-General (IGP) of Police and the Human Rights Commission of Sri Lanka (HRCSL) about the street protests.
Private bus owners say they are now planning to go to the Supreme Court over the issue.
Trade union representatives maintain they are forced into street protests as appeals to the government have fallen on deaf ears.
"When thousands of students take to the streets it is inevitable that roads become blocked. Our aim however, is not to draw attention to our issues by blocking the maximum number of vehicles or inconveniencing the maximum number of people," Lahiru Weerasekara, Convener of the Inter-University Students' Federation (IUSF) told The Sunday Times. The IUSF has staged five mass protests in Colombo so far this year.
Mr. Weerasekara claimed the Federation engaged in protests when authorities failed to provide solutions to their problems.
The protests were effective, he held. The IUSF was currently rallying over the privately-run South Asian Institute of Technology and Medicine (SAITM) which it claims should be shut down on grounds it allegedly graduates unskilled doctors. Although the government had not satisfied the IUSF's demands, the protests had created public debate on the issue, Mr. Weerasekara pointed out.
He scoffed at claims by the government that it had provided more scope for protests, unlike the previous administration. "Police have obtained court orders to prevent every one of our recent protests. Legal action has also been filed against us. Our processions have been teargassed. Student activists have been assaulted and arrested. None of this signifies there is freedom to protest," he said.
The General Secretary of the Ceylon Teachers' Union (CTU), Joseph Stalin, also insisted that his organisation's protests were the result of inaction or lethargy by authorities in resolving issues.
In June, the CTU and other teacher unions marched from the Fort Railway Station to the Presidential Secretariat over problems faced by principals. Another protest took place on October 5 to mark World Teachers' Day. Unions held a rally in Hyde Park before marching in a procession to Temple Trees.  "The reason we are protesting is that the relevant ministry has not taken any action to resolve our problems. No-one acknowledges our letters. No-one offers us meetings. What options do we have left?" he asked.
Police, however, say a minority of protestors are now more inclined to obstruct traffic by blocking a main road in the belief that it would draw more attention to their issues.
"The right to protest is a fundamental human right. Causing a public nuisance is not," was how Deputy Inspector General (DIG) Motor Traffic, Palitha Fernando put it bluntly during an interview at his office in Fort.
As a matter of procedure, police normally directed drivers of large vehicles such as containers and bowsers to stop on the side of the road and wait when a protest takes place, he revealed. "There's no way we can redirect them. But we do take all measures to try and ensure that buses are able to move as quickly as possible given the passengers in those vehicles," DIG Fernando said.
While the protests cause severe strain for the police, force is only used to disperse them as a last resort, he insisted.
The message police had for protestors was that they were welcome to hold any protest by the roadside, the DIG emphasised. "We will even provide police protection to them to ensure there are no incidents. However, we urge them to refrain from blocking the main roads."
The government was not going to interfere in people's right to protest, but has noticed a disturbing trend where some take to the streets as a first resort, State Minister of Finance Lakshman Yapa Abeywardena,observed.
Such protests cause a severe impact on the economy, he added; they made it especially hard to convince foreign investors to invest in the country.
He denied accusations that many protests take place due to inaction by authorities, saying, "It seems to me that in many cases, people don't exhaust all avenues and opt to protest as soon as an issue emerges."
Mr. Abeywardena said it was time for a public dialogue on street protests: there needed to be some measure of self-control when it came to protests; they should never be the first option, he emphasised.