Photo focus: Waiting for monsoon rains
View(s):

Story and pics by Indika Handuwala and Rahul Samantha Hettiarachchi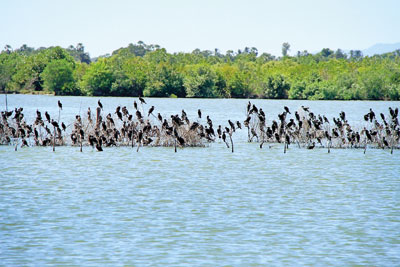 Birds flock to water
The water level of most tanks has dropped dramatically, and many of the smaller ones have completely run dry. Humans, animals and birds alike, await the onset of monsoon rains.
Severe water shortages are being reported throughout the country due to the prevailing drought.
In many drought stricken parts of the island, the need for water is felt not just by humans. Numerous reports have come to light in the past few weeks of herds of elephants coming more and more into contact with humans, while searching desperately for water.
Water is now being provided to many villages in the affected areas through bowsers. Some villagers have taken to following bowsers in order to fill their containers once they come to a stop.
The photographs captured in various parts of the country shows the gravity of the situation.