Detecting CKDU early:Researchers zero in on biomarkers, Hambantota also affected
View(s):

By Kumudini Hettiarachchi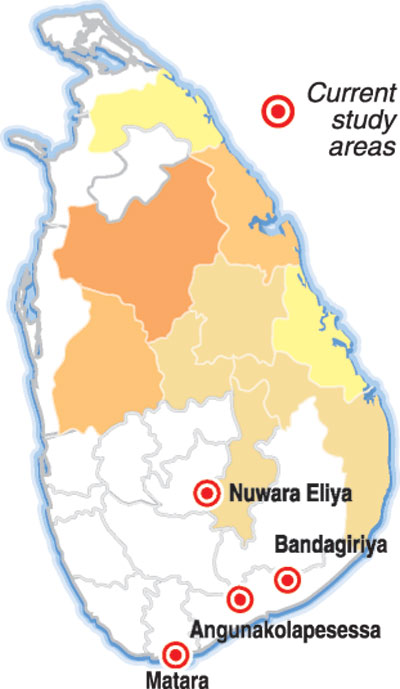 It is the toil, sweat and tears of the humble paddy farmer in the Dry Zone of Sri Lanka that puts the rice on our plates daily. It is this very same farmer, mainly in the North Central Province (NCP), who has been caught in the vice-like grip of a deadly, mysterious kidney disease.
While many have been attempting to find the cause or causes of this Chronic Kidney Disease of unknown aetiology (CKDu) and the focus has mainly been on the districts of Anuradhapura and Polonnaruwa, about 15 years into such research, it is disturbing that no one has looked in to catching the signs of this disease early.
This is what a team of researchers from the Universities of Ruhuna and Rajarata have zeroed-in on to come up for the first time in Sri Lanka with the novel role played by urinary 'biomarkers' in the detection of CKDu not in the 'last and final' Stages of 3 and 4 but in the 'first and early' Stages of 1 and 2. Biomarkers are naturally occurring molecules, genes or characteristics by which a particular pathological or physiological process, disease, etc. may be identified, it is learnt.
Another startling discovery has been the identification for the first-time ever of farmers with CKDu, in a region hitherto believed to be free of the disease – Hambantota in the Southern Province, whereas earlier there had been a concentration of patients mainly in the NCP. A significant factor is also that the previous 'source' of drinking water used by these farmers in Angunakolapellesa and Bandagiriya was wells with "very" hard water. Now, however, they have access to tap water.
These research findings titled 'Urinary Biomarkers KIM-1 and NGAL for detection of CKDu among Agricultural Communities in Sri Lanka' have been` published in the respected PLOS Neglected Tropical Diseases Journal on September 19.
The research has been conducted by Ruhuna University's Prof. Mangala C.S. De Silva (Zoology Department, Faculty of Science) and his team and Rajarata University's Dr. Channa Jayasumana (Pharmacology Department) and Prof. Sisira H. Siribaddana (Medicine Department), in collaboration with the Renal Division of the Harvard Medical School of Boston, United States of America.
Having picked four farming locations in Sri Lanka, two with no CKDu prevalence – Matara and Nuwara Eliya — and two where CKDu seems to be emerging – Angunakolapelessa and Bandagiriya — the team had recruited 1,734 young, male farmers during 2014-15.
Angunakolapelessa and Bandagiriya are also in the Dry Zone but located in the south with farming practices similar to CKDu-endemic areas in the NCP, while Matara and Nuwara Eliya are non-endemic CKDu areas in the Wet Zone.
When the study's exclusion criteria of male farmers over 20 years old who had been into farming for more than 10 years and had worked for more than 600 hours per year were applied, the numbers had decreased to 439. Thereafter, when these farmers were screened for co-morbidities such as diabetes, hypertension, arthritis, gastritis, renal calculi etc., the numbers had further dropped to 363. When urine samples were collected for biomedical analysis, only 223 farmers had been present, with 56 from Angunakolapelessa; 61 from Bandagiriya; 52 from Matara; and 54 from Nuwara Eliya.
The profiles of the farmers studied were as follows:
* Angunakolapelessa – in the 27-70 age-group, mostly engaged in paddy farming.
* Bandagiriya – in the 36-79 age-group, mostly engaged in paddy farming.
* Matara – in the 26-49 age-group, engaged in both paddy and vegetable farming.
* Nuwara Eliya – in the 20-83 age-group, engaged in both paddy and vegetable farming.
A noteworthy factor was that the farmers in Angunakolapelessa and Bandagiriya had a lower education level, hence a low socio-economic status than those in Matara and Nuwara Eliya.
"Our study shows that KIM-1, other than conventional markers, may be used to detect early CKDu cases in susceptible farming communities in Sri Lanka," points out Prof. De Silva.
However, he concedes that there were some limitations in the study — the inclusion criteria leading to a smaller sample size and the absence of some farmers during urine collection leaving a modest sample size for the biomarker analysis.
The other main limitation was the lack of established urinary biomarker levels that reflect sub-clinical damage in Sri Lankan nephropathy, he says, adding that short-term individual variation within the subjects was also unknown and a follow-up study is required.
Quoting the author summary in the published research paper, Prof. De Silva tells the Sunday Times that CKD is a challenging global health issue around the world, with the impairment of kidney function with time, being imminent. However, indications of CKD may not be seen until considerable damage to kidney functions takes place. The two main causes of CKD are diabetes and high blood pressure. But recently a new form of CKD other than from these known factors has been reported among agricultural workers in the tropics.
"The causes of CKDu are unknown. With clinical diagnosis depending on urinary markers and conventional creatinine-based markers, there may be an under-estimation of the prevalence of the disease," he says, pointing out that as such the development of new sensitive markers for early detection of CKDu may certainly improve treatment and patient management around the world.
And this is what Prof. De Silva and his research team set out to do.   With CKDu victims not exhibiting common causative factors, histopathological studies have revealed that CKDu is a tubulointerstitial disease. Urine albumin or albumin-creatinine ratio is still being used as a traditional diagnostic tool to identify CKDu, but accuracy and prevalence data generated are questionable, according to him.
Urinary biomarkers, meanwhile, have been used in similar nephropathy and are widely recognized for their sensitivity, specificity and accuracy in determining CKDu and early renal injury, he says referring to their study. But these biomarkers have never been used in diagnosing CKDu in Sri Lanka.
Shocking news from the south
Another finding of the study is worrying the researchers – 14 new cases (18%) of Chronic Kidney Disease of unknown aetiology (CKDu) have been detected from Angunakolapelessa and nine cases (9%) from Bandagiriya in Hambantota in the south of Sri Lanka.
"This is the first time that we have detected CKDu in the south," says Prof. Mangala De Silva, pointing out that these areas have been considered 'non-endemic' for CKDu earlier.
The analysis of urinary biomarkers, the Sunday Times learns, showed that urinary KIM-1 and NGAL were significantly higher in the new CKDu cases in both these areas.
A disturbing trend is also significantly higher KIM-1 and NGAL in apparently healthy farmers (the control groups) in these areas, says Prof. De Silva, reiterating that these observations may indicate possible early renal damage. No CKDu cases, however, have been identified in the other two non-endemic study locations of Matara and Nuwara Eliya.
In 2011, a single suspected case of CKDu was reported in Hambantota district despite the area being previously considered a non-endemic region. In the same year, six CKDu cases were identified in Hambantota district using the non-specific qualitative dipstick test followed by the sulfosalicylic acid test.
Study of sugar-cane farmers
Similar studies have been conducted on sugar-cane farmers in Pelawatte in the Uva Province, the Sunday Times learns.
"We have found higher levels of the urinary biomarkers KIM-1 and NGAL in them too," said Prof. Mangala De Silva.