Ampara District Field Officers demand motorcycles
View(s):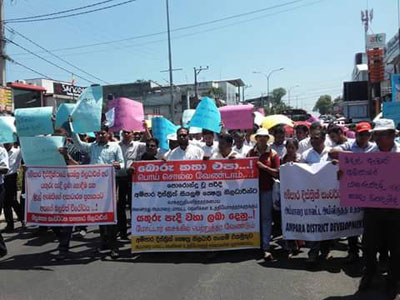 Around 3,500 Field Officers (FO) from several State departments and associations, held a protest march last Wednesday, across Ampara town from clock tower junction to the district secretariat, urging the Government to address the non-provision of motorcycles to some 5,000 FOs, under the previous regime.
The protesters accused the previous government of not providing motorcycles to FOs in the Ampara District due to political considerations at the time of distribution, while the programme was completed in other parts of the country.
Most of these FOs were also affected by the 30-year war and the tsunami in 2004.
It was also stated that the President, in his manifesto for the Presidential election last year, pledged Rs 50,000 as a one-off payment under the previous government to buy the vehicles, will be returned to the recipients. Besides, the President had also promised to allot motorcycles to the non-recipients, as of then.
The protest march was organised by trade unions attached to several State departments and associations. They demanded that, Government allocate funds in the 2017 Budget to address this issue of a vehicle necessary to carry out their duties.
This programme was initiated by the previous government, so that FOs are more active and provide a more efficient service to the public.