Ven. Basnagoda Rahula Thera appointed president of Houston Vihara
View(s):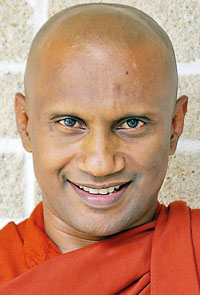 Professor Ven. Basnagoda Rahula Thera, a popular teacher of Buddhism and meditation, has been appointed president and treasurer of the Houston Buddhist Vihara by Ven. Pannila Ananda Nayaka Thera, former president of the vihara and Chief Incumbent of the Attanagalla Rajamaha Viharaya.
The Houston Buddhist Vihara, a prominent Buddhist temple in the United States, serves Sri Lanka, Vietnamese, and mainstream American devotees. Ven. Rahula's path to success is both laudable and inspirational. Born in the little known village of Basnagoda in the Kegalla district as the only child to his parents, Ven. Rahula entered the Buddhist order as a novice monk at the age of twelve. After receiving his Bachelor's degree in Buddhist philosophy from the University of Kelaniya, he migrated to the United States, at the invitation of Ven. Ananda Nayaka Thera, in 1992 and soon learned to deliver Dhamma talks to American audiences in English.
He also obtained a Master's degree in literature at the University of Houston-Clear Lake in 1993. He was also appointed a part time English lecturer at a regional American college.  "I was both elated and surprised that I got that teaching position," says Ven. Rahula, "It was amazing for a Buddhist monk to go to a classroom in a saffron robe and teach English to American students in an American college."
He has also published two books on Buddhism: Beautiful Living: Buddha's Way to Prosperity, Wisdom, and Inner Peace and Buddha's Way to Prosperity: at Home, at Work, in the World. Notably, Sir Arthur C. Clarke wrote the forewords to both books. Buddhist scholars say Ven. Rahula's books are the first to discuss the Buddha's guidance to his lay followers on secular life.