Rude shock in the mornings as vendors turn up volume
View(s):

Doctors warn of risk of strokes, mood changes, hearing loss
By Anushiya Sathisraja

Kalaieswary Shanmuganathan, 55, is jolted out of sleep every morning by the din of the musical horns sounded by vendors passing by her house selling bakery products.There has been no action by local authorities or the police against the vendors making a noise from as early as 5am around her home in Weliamuna, Wattala.

"The noises awaken the whole neighbourhood including the elderly, the sick, infants and those who do not even want to buy bread or buns," Ms Shanmuganathan said. "It seems there is no use in depending on the government to intervene and reduce sound pollution," she said.

The increased competition among bakery owners to sell their products and the equal competition among vendors of the goods is resulting in one vendor following another just 15 minutes later along the same route.Noise pollution by others including sweep ticket vendors, three-wheelers, and heavy vehicles and buses are also on the rise in the absence of proper control by environmental authorities or the police.

Even those buying old newspapers, collecting scrap metal, selling flowerpots, plants and plastic items in highly residential areas have got into the practice of using loudspeakers from vehicles; the traditional voices heard calling "bothal-pattara", "parana yakada" "malpochchi" or "mal pela" are disappearing.

The Chief Incumbent of the Gangaramaya Temple, the Ven Galboda Gnanissara thera only last week complained to the Inspector-General of Police, Pujith Jayasundara, about the increased noise pollution in the sacred area of Kataragama where three-wheelers fitted with sound systems play loud music in the area.

"Where are the police officers? Why aren't they taking action against these people?" the thera asked the IGP when he visited the temple. The increased noise pollution is also having its health impact not only on the elderly and children but also on the young.
The vendors are well aware of the nuisance they cause. As K. Kumar,30, a mobile food seller in Wattala said, there were no limits imposed in the area and also there were three more vehicles belonging to other bakeries in operation there.

"Most of the sellers increase the volume of the music played to gain the attention of prospective customers," Mr. Kumar said.
A recent study carried out by the Sri Jayawardenepura University Medical Faculty reveals that adults (those aged 25 and over) and the elderly (aged 75 and over) were 4 per cent more likely to die if they lived in areas with a daytime road traffic noise of above 60 decibels rather than under 55 decibels.

The deaths tended to come from cardiovascular disease, perhaps because of stress from the noise, increased blood pressure, or impaired sleep. Morning noise caused a 3 per cent rise in stroke deaths among the elderly in the noisiest areas.
Sound pollution also triggers illnesses such as hypertension, heart diseases, diabetes, mental problems, concentration problems and sleeping issues as well as causing sudden shock and high blood pressure.

Exposure to high levels of noise can affect behaviour. "If your sleep is disturbed by noise, you could suffer mental stress and turn aggressive. Loud noise can indirectly cause stress," consultant ENT surgeon at the National Hospital, Colombo, Dr. Chandra Jayasuriya said.
"Even a very quick exposure of three seconds to loud sound could cause severe damage to the cochlea of the human ear," she added.
Local health experts argue that noise pollution in Sri Lanka is a major cause of heart attacks and other stress-related illnesses.
Central Environment Authority (CEA) Director-General K.H. Muthukudaarachchi said a human could take up to 80 decibels and CEA regulations were based on this standard. But he acknowledged a person who is exposed to this sound level for over an hour could suffer hearing impairment.
He also added that the CEA recognised that current noise regulations, dating from 1996, needed to be amended to be appropriate to modern development, and, in fact, industrial noise regulations would be clarified and amended this year.
Mr. Muthukudaarachchi said the authority had received many complaints from the public but there are still no proper laws regulating noise caused by mobile bakeries, mobile commercial vehicles, ice cream vendors and lottery stalls.
He said under the Public Nuisance Ordinance police could file legal action against users of loud noise-generating equipment.
The Director of the Environment Police Division, Superintendent Quintus Raymond, said police lacked equipment to monitor noise levels from vendors selling bakery products or ice cream with tunes broadcast from their vehicles.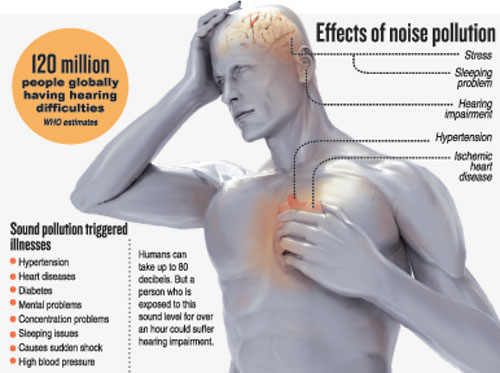 Superintendent Raymond asked residents to inform their local police stations or the Environment Police if noise levels were causing severe disturbance. If there were a large number of complaints from an area a noise level test would be done and the offending vendor would receive a warning and, if the annoyance persisted, police would take legal action, he said.
"We are aware that if a couple of vendors operate on the same route and they have different tunes as they are competing. This compels them to raise the volume of the noise," he said.
He said the competition among sellers has become a problem and said police had advised mobile sellers not to make excessive noise."Though the police have powers to control vehicle noise and authority to advise religious places about noise limits in the morning we can take only limited action due to lack of proper laws and regulations relating to vehicles used by mobile food sellers," Mr. Raymond explained.
The World Health Organisation (WHO) estimates that 120 million people globally have hearing difficulties.
Under national environmental regulations, loudspeakers may not be used between 10pm and 6am except for announcements made in times of emergency or disasters.