Men at work, but little safety at construction sites
View(s):

Researcher cum civil engineer calls for policy suited for Sri Lanka and an independent state body to look into safety and health of workers

By Kasun Warakapitiya
The safety of construction workers in Sri Lanka is a woefully neglected area, a researcher and civil engineer has pointed out.
Dushan Dharshana has said his research revealed that many micro and medium-sized construction companies are unaware of safety policies and do not have safety officials.

"Many construction workers and owners of construction sites are unaware of the need of deploying health and safety officials at the work-site and even if they had such officers these officers were not aware of safety protocols not did they know how to administer first aid if the need arose," he said.

Pointing out that the need of the hour was a policy that includes strong risk assessment, management and proper auditing, Mr. Dharshana said everything regarding the safety and health condition of the workers should be listed and checked. He explained safety rules, equipment regulations and first aid facilities should be included in the list.

Mr. Dharshana an engineer at the Sate Engineering Corporation said although accidents that occur at construction sites have to be reported to the Labour Ministry his research revealed less and less incidents were being reported.

"I suggest that the government set up an independent state body to record incidents, including accidents at construction sites," he said. He said this body should also look into ways of averting such accidents in the future after finding out how they took place.

Mr. Dharshana said although Sri Lanka currently had safety policies that are more suited for developed countries we lacked the resources to implement them. He said Sri Lanka should have a safety policy more suited to the country and it should be enforced strictly.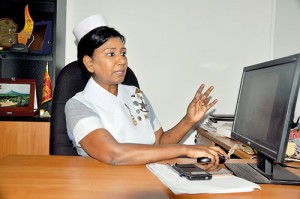 He added that during his research he found that although more attention was given to accidents that take place and the resultant injuries sustained by the workers, the general fitness and health of the workers were neglected areas.
Mr. Dharshana claimed although he had come up with a proposal on the safety of workers based on his research the government had not yet used it to formulate a practical and workable policy.
Meanwhile, the National Hospital's National Accident and Orthopaedic service Coordinator (training) Pushpa R. Zoysa said from January this year to the beginning of this month more than 70,000 cases of accident related injuries were reported, of which 12 per cent was a result of negligence and lack of safety protocol at construction sites.