Battle for solar energy begins
View(s):

By Malaka Rodrigo
The government this week launched Soorya Bala Sangramaya (Battle for Solar Energy) with President Maithripala Sirisena inaugurating the programme by lighting his official residence with solar power.The government said it expects the programme to add 200 MW of solar electricity to the national grid by 2020 and 1000 MW by 2025.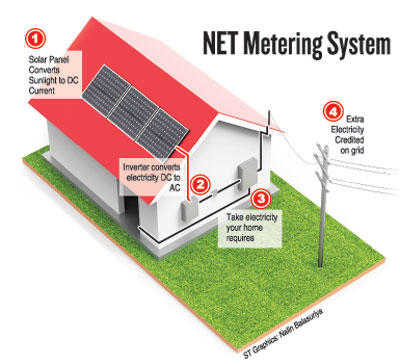 A community-based power generation project launched by the Ministry of Power and Renewable Energy, Soorya Bala Sangramaya promotes the installation of solar panels on the rooftops of households and institutes such as religious places, hotels, commercial establishments, and industries, and the buying back of excess power for the national grid.
Solar electricity customers can connect their own onsite generation system to the utility grid and receive credits on their electricity bills for their excess renewable energy generation.Ceylon Electricity Board (CEB) and Lanka Electricity Company (Private) Limited (LECO) consumers are given options from three schemes: Net Metering, Net Accounting and Micro Solar Power Producer.
Under the Net Metering scheme, the consumer has to pay only for the net amount of electricity that was consumed. If the solar electricity production exceeds the electricity consumption of the premises, the balance amount can be carried forward for future use for up to 10 years but no fee will be paid for the excess electricity produced.
Under the Net Accounting scheme, if the electricity generation of solar rooftop system is greater than the consumption, the consumer will be paid for the excess at the rate of Rs.22 for 1 Kwh initially. If the consumption is greater than the generation, the consumer shall pay for the excess consumption according to the existing electricity tariff structure.
The total electricity generation from the solar rooftop system would be purchased under the third category, Micro Solar Power Producer. The bill for electricity consumption would be paid to the utility as usual.The solar drive is not, however, without concerns. Although prices of solar panels have come down, considerable capital is still needed to install solar panels, so mostly it is the richer houses that can afford it.
Former CEB General Manager Shavindranath Fernando said solar power generation takes place during the daytime and the excess generation is fed back into the Grid, when the cost of the power generation is relatively low. However the same consumer will draw power from the Grid in the night when most electricity is used. Further it is at night where the Power systems are getting stressed, and the same unit of electricity will cost more to generate at night. He suggested a time-of-day tariff to buy back electricity for the national grid from solar power producers.