The individual matters in a macro canvas
View(s):

Take a literary stroll with Adilah Ismail as she talks to two Lankan writers whose books will be released next month; the 2015 Gratiaen winner Thiagaraja Arasanayagam and young Anuk Arudpragasam whose debut novel, "The Story of a Brief Marriage", is published by Macmillan New York


When we met with Anuk Arudpragasam in Colombo two weeks ago to discuss his literary debut, there's a children's party going on at the Dutch Burgher Union. From the café where we were seated, the party itself wasn't visible. But every now and then, snatches of cheerful nursery rhymes buoy the pauses in our conversation – an incongruous soundtrack for a conversation on post-war Sri Lanka, linguistic identity and writing.

The 27-year-old writer's debut novel is the literary equivalent of an artist who sits in front of a sprawling tree and then chooses to sketch a leaf in minute detail – labouring over the veins, petiole, margin and blade. The novel is set in the last stages of Sri Lanka's civil war but its fictional ambit is focused on the individual and the body, and is a philosophical plunge into a man's existence in the backdrop of conflict. There's care to sketch out micro-stories and the violence which frames the backdrop of the story;the book calmly opens with an amputation done with a kitchen knife and no anaesthesia on a boy who has already lost a limb. A few pages later there's a description of a man with an amputated arm resolutely searching for his misplaced body part in a sea of severed limbs, as though he was shopping for clothes. But the lens is firmly on a character named Dinesh and the outcome of an unexpected proposal he receives.

Born in Colombo, Anuk lived in Pondicherry, India for a year soon after he finished his undergraduate degree in the U.S., and spent most of the year writing. A self-confessed slow reader, the writers he turns towards (Andrei Platonov, Beckett, Proust, Robert Musil) have influenced his own writing and share stylistic similarities – an avoidance of plot, psychological writing, less attention to characterization and more attention to the inner life.

Although he had dabbled with a few satirical stories when he was younger, Anuk began writing seriously at 21 soon after university, testing the waters for a novel by experimenting with short stories. The Story of a Brief Marriage began taking shape in 2011 in the aftermath of the uncertainty which shrouded the last phase of the Sri Lankan war in 2009. It was only when swatches of media started surfacing on the internet after the war that people began piecing together fragments of what took place.

The novel, Anuk explains, was a spontaneous response after coming into contact with these images and footage. During the three years of writing the book, he submerged himself in reading material and online footage on the final stages of the war and also spent time in Wanni, coming into contact with people who had been displaced and affected. (A 2014 essay by Anuk in the Indian magazine Caravan, provides an elegant dispatch on a difficult subject, detailing vignettes of grief and trauma which lingers in the aftermath of a war). Having engaged with this material for three years and returned to it daily for long periods of time, the mood with which he wrote the novel soon became indistinguishable from the rest of his life. After spending two years forming the initial chapters, a deadline was firmly self-imposed and the final four chapters were written in six months. Working towards a doctorate in philosophy at Columbia University and now in his sixth year, Anuk's study of philosophy occasionally informs his fiction (although not overtly), giving him a scaffolding when writing about the inner life.

When Sri Lankan writer, Shyam Selvadurai, heard that the novel was set during the last days of the war, he was hesitant wondering if it would descend into sensationalism. But The Story of a Brief Marriage came as a surprise. "It really is high literature in the European style. He manages to infuse the scenes with such power and poignancy without ever veering towards being sentimental," noted Shyam via email. "I think people should read it because it is an excellent novel. Its interiority is its power. It forces us to be present in those last days, to be more than a witness – to be really there. And we need to be really there, because we are all guilty of what happened there – it is part of our national wound," explains Shyam, elaborating on the implications of the novel on Sri Lanka's literary landscape.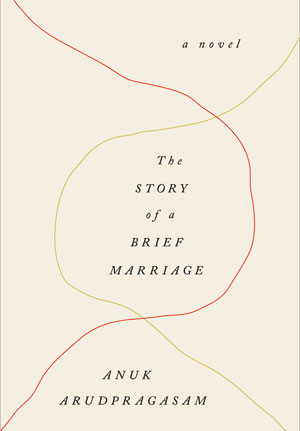 Anuk highlights that there's a deliberate extraction of political context and information in the novel for a specific reason. When physically removed from its presence and witnessing pain and suffering from a distance, the impulse to act is often manifested though political enquiry and the process of trying to reach a solution. While this political post-mortem is crucial, it sometimes sanitizes the unavoidable discomfort of being in the presence of pain which can't be acted upon. Instead, the book nudges the reader towards an exercise in comprehension, empathy and understanding. "The novel itself is not an attempt to say what it's like to be in such situations. It is the attempt of somebody in my situation – who has lived in insulated, privileged circumstances – to understand the situation of somebody in very different conditions," he explains.
"A part of the novel is this idea that the war had the effect of cutting people off from their language, from their history, from their relationship to the land or from their relationship to objects. They are completely alienated individuals. In my thinking, the only thing I had in common was a body, which is why the novel is so focused on the body and intimate organic processes," notes Anuk.
Caroline Bleeke, Anuk's editor at Macmillan's Flatiron Books, New York, first read the initial manuscript over the course of one long night. As a reader, the prose's immersive features drew her in. "One of the qualities I find most compelling about it is the way in which it slows down time," she wrote via email to the Sunday Times (the events in the novel take place within a brief window of time). As an editor, the cadences of language and the intricately formed sentences marked the book ("even the most philosophically weighty paragraphs are finely and tenderly wrought") often resulting in back and forth exchanges between author and editor about a single word, in order to maintain an equilibrium between a line's music and meaning.
For now, Anuk divides his time between Sri Lanka and U.S. Once back in New York, in addition to more writing, teaching and dissertation work beckon (his dissertation focuses on late 19th century and early 20th century American ethics and about habit and its relationship to the individual.)
While the changes in location don't factor into his writing, his linguistic identity does:"When it comes to the texture and the oral quality of the language I feel that English might not come as naturally to me as it does to other writers." He admits that while his English is better than his Tamil, there's a niggling feeling that it is still his 'puram' (external ) language. Although still a little insecure about his Tamil writing to write in public fora just yet, he hopes to publish in Tamil in a few years, and has also begun work on a second book.
Anuk Arudpragasam's novel The Story of a Brief Marriage will be released on September 6 in the U.S. and will be published in UK, France, Germany, the Netherlands, Italy, and India.