If food be the music of love, play on Upali
View(s):

ETUL KOTTE: Google, a playful Labrador, greets us joyously as we walk into the palatial home of Upali Dharmadasa set resplendently on the verdant banks of the Diyawanna Oya. It is just past 8.15 in the morning but this is one interview I'm really looking forward to and had no second thoughts of rolling out of bed early to stick to the schedule.  For the master of the house has promised he will cook us a dish for breakfast. The digestive juices are already flowing and it seems Google can sense that anticipation as he nuzzles me and plants wet licks on my hands and face.
Upali is still upstairs so we have to make do with Google and six other dogs for company.

In the driveway are seven cars, among them three or four Mercs and an Aston Martin which would have made James Bond turn green with envy. It is easy to read the signs. The former president of Sri Lanka Cricket is undoubtedly avid about cars and dogs and surrounds himself liberally with both. But his true love is food, or rather cooking. A czar in the business world – he is chairman of Nawaloka Group – he is also known for the popular Colombo 7 restaurant he runs.  As such it is no surprise that when we made initial inquiries as to what makes him tick that he simply used a four-letter word – FOOD – to underline his lifelong passion in a nutshell.

Started at 11 years
"I have always loved to cook. I grew up watching my mother cook for the family, and then trying it out myself. I probably started cooking when I was around 11-years-old and this is my first love, my hobby," reveals Upali as he welcomes us.  The plan is that he will make a dish and we will taste it for breakfast. I feel like one of those overbearing Masterchef judges, and I nod wisely as Upali explains what he is about to cook.  Prawn curry is the treat of the day. I'm overjoyed for it is one of my favourites. And when he says he will also make 'Parippu' to accompany the stringhopper breakfast my belly simulates a Fosbury flop worthy of a Russian Olympic high-jumper on steroids.

Upali is lucky. He has an army of helpers who has already done the preliminaries – peeling the red onions, shelling the 500 grams of prawns, and most importantly grinding the chillie powder, curry powder both roasted and un-roasted, and turmeric. They lie there in four neat balls.
"My mother never used chillie powder or curry powder. She always had it ground finely. It tastes better than using the powder," announces Upali as he displays the balls of ground spices like a juggler.  Obviously he doesn't believe in the old proverb about too many cooks spoiling the broth for everything has been prepared for the Don of Diyawanna. While us common folk would use the big Bombay onions, he has opted for the smaller red onions – peeling is not an issue for it has all been done beforehand, chopped and ready to use.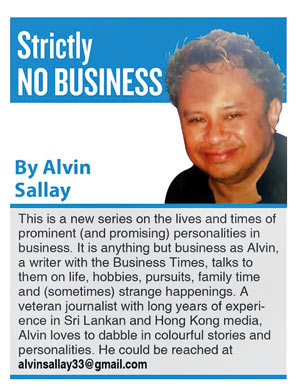 Clay pot cooking tastes better
"Of course it will take a bit more effort, using red onions or grinding the condiments into paste but at the end of the day it is worth it for the food is tastier," is the verdict from the master cook as he puts all the ingredients into a clay pot ("far better than aluminium as it enhances the taste") simmering with oil.  The 'rampe' and curry leaves are added liberally, a twig of lemon grass is thrown in as well as cubed tomatos. He has two big bowls of coconut milk, one thick and from the first squeeze, the second more watery. Scoops of the ground spices are added and the prawns are mixed in. The watery coconut milk is poured in and a minute later the thicker variety is added. The flame is low as the curry cooks.
On an adjoining stove, he begins on the parippu. The dhal is not pre-boiled but thrown into the pot raw with all the condiments. Once again two types of coconut milk are used with thick slices of green chillies being added right at the end.  From start to finish, it hasn't taken more than 10 minutes to cook up these delights. Jamie Oliver has no chance with his half-an-hour meals and can eat his heart out. The aroma from the prawn curry and parippu floods the kitchen raising my hunger levels to code red.  "Food was the first business my father was involved in," relates Upali. "We are from Matara but my father first started his business in Peliyagoda when he opened the Nawaloka Hotel in the 1940s. It catered to the local community and I'm proud to say it is still there."
Those roots planted in Peliyagoda took hold and flourished resulting in the family moving into the heart of Colombo. The business expanded as the family got involved in everything from construction and hospitals to trading and timber. The family home which today houses Upalis (the restaurant) was built a few years before Upali was born, the youngest of six children – two boys and four girls.
Prawn and parippu
"We moved into our new house in 1953. I was one-year-old. It was here that I discovered my love for cooking. I would spend a lot of time watching my mum make dinner for us. She was a fantastic cook and would pass on tips which you wouldn't find in any cookery book."  Upali is quick to point out that despite being the youngest of the brood, the favourite was his elder brother Jayantha. "But I was a good kid and that is probably why I was boarded for my whole schooling life."  He began at St. Thomas' Prep before moving to Gurutulawa. He then came back to Colombo and was boarded at Nalanda before finishing off his A-Levels at Ananda. Throughout his schooling life, he maintained his love affair with the hearth.
We are now seated in his cavernous dining room as he relates how he got his grounding in life. The food is cooked and is placed on the table. The fragrance is mouthwatering and I don't need a second invitation to heap a pile of string-hoppers on my plate and smother it with prawn and parippu. There is no need for me to look sagacious and nod like those foodies on television for this is genuinely yummy stuff.  "I'm one guy who can cook as well as eat the food which is cooked. Most cooks can't do that but I have no problems," says Upali. One must be barking mad like Google to find fault with this spread.
For Upali, cooking is not just a hobby but also a way of life. "I become very calm and peaceful when I start cooking. It is a great way to fight stress, not that I have any. I find it very relaxing," he offers as I wolf down the strings in the cavalier style of a Sanath Jayasuriya.  "When I started Upalis about four years ago, everyone said I was on the wrong path and advised that I start a Chinese or a Thai restaurant. But I was convinced that there was room for a quality Sri Lankan restaurant," he explains.
Fresh food and ingredients
"Today we are full for both lunch and dinner simply because the quality of the food, not only how it is cooked, but also the fact that we source it every day so as to make sure it is fresh. We buy all our stuff on a daily basis and don't refrigerate anything. Sometime I lose but I don't want to offer anything but freshly cooked food."  If you're lucky, you might have the privilege of eating food cooked by the man himself at Upalis. "I visit frequently to check and make sure everything is okay, and then might do a bit of cooking. But all the menus are done by me." His wife Sandhya chips in supplying the scrumptious desserts like chocolate biscuit pudding.
Upali has never touched a cookery book. He cooks by feel and love. One look at a dish and he knows instinctively how to make it melt in the mouth. He is cooking's version of a Van Gogh.  And like all master artisans he has cooked for the best. "I have cooked for Sachin Tendulkar and Shane Warne. I invited them home and they both loved the pepper crabs and chillie prawns. When I was chairman of Sri Lanka Cricket I used to invite players and officials. The Indian team has come home. I still invite cricketers," Upali adds.  The Upalis franchise has also opened in Melbourne too, catering for the large community of immigrant Sri Lankans dying for home-cooked delights infused heavily with nostalgia.
But this is just a hobby, a by-the-way sort of business. It is clear that he is in it more for the love of cooking as well as a homage to his parents – his dad who began life with a food hotel and his mum who taught him how to capture the hearts of people through the stomach.  "I opened Upalis because we didn't want to sell the house we grew up in as well as it is a reminder of where we came from."  I can never aspire to be a Tendulkar or a Warne, but when I leave his table, I walk away as sated like a champion.