RTI: Icing on the cake
The Sunday Times wins big at annual Journalism Awards for Excellence
View(s):
Tuesday's annual Journalism Awards for Excellence at the elegant Empire Ballroom of the Mount Lavinia Hotel had its share of suspense and excitement as the coveted awards were given out to journalists who had shone in their profession in the past year. The awards were presented before a gathering of their peers who had all left their computers and deadlines behind for a rare evening of celebration.
The big prize of the evening 'the Mervyn de Silva Journalist of the Year award' was won by K. Sanjeewa of the Ravaya. And as is customary, the evening began with seniors in the profession Piyasena Ihalavithana, Veeragathy Thanabalasingham, Sarath Malalasekera, Premasiri Abeysinghe and Neville de Silva being honoured with Lifetime Achievement Awards.
The Sunday Times had a memorable night winning the Best Designed Newspaper of the Year award and its News Desk garnering the Scoop of the Year award. The Sunday Times journalists were in the forefront – Namini Wijedasa won the Investigative Journalist of the Year while Chandani Kirinde carried away the Upali
Wijewardene Feature Writer of the Year award with Adilah Ismail being awarded the Merit award for Feature Writer of the Year. Photographer Amila Gamage received the Merit award for Photojournalist of the Year.
Senior columnist and attorney-at-law Kishali Pinto Jayawardena collected the D.R. Wijewardene Award for Earning the Appreciation of Peers and the Public on behalf of all those who had campaigned relentlessly over the years for the Right to Information Law which was passed by parliament this year.
The chief guest for the evening, Ambassador for Norway Throbjorn Gaustadsaether was presented a replica of the Journalism Award by Chairman of the Sri Lanka Press Institute Kumar Nadesan and President of The Editors' Guild of Sri Lanka (TEGOSL) Manik de Silva. The Journalism Awards of Excellence is organised by the two bodies representing the press in Sri Lanka.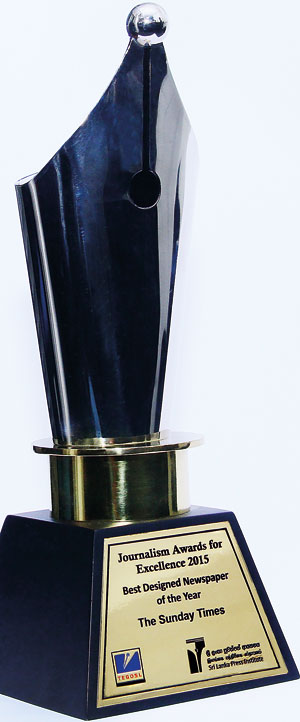 Pix by Indika Handuwala and M.D. Nissanka