Appreciations
View(s):

J.O. YATAWARA

We will keep you in our hearts for the rest of our lives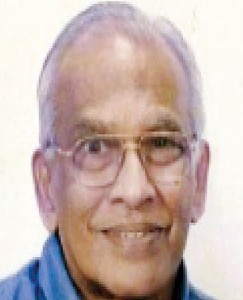 Losing my beloved father was the darkest hour in my life.  Having not experienced such severe heartache before, I had no idea how to deal with such a huge loss. He was my hero, my friend – the person I went to, be it good news or bad; and the one I shared my secrets with. There was absolutely nothing he refused me. If there is even an ounce of good in me, it is because of him.  He showed me loads of things, but I think the most important quality I learnt is how to really care – this I did just by watching him. From him I learnt how to change a plug, a light bulb and even repair things around the house. He called me, his one and only daughter and his little engineer. How do I say goodbye to such an amazing man and an exceptional, unique father?
They say time heals but at this time I don't believe it.  Sometimes I try to block this unbearable pain. You realize just how much you miss someone only when they are really gone. I know it is part and parcel of life but I guess I wasn't ready, prepared for this unimaginable goodbye.  I am grateful my two sons got the chance to meet and spend time with him. They learnt much from him.  They were so comfortable to talk to him on any subject, even about their girl friends. They loved him dearly and had the utmost respect for him.
As a young woman I wanted a partner with the same wonderful qualities of my dad and God did bless me with such a man. My husband, Palitha and my dad got on famously which gave me a lot of pleasure.  Daddy was very fond of him and knew he was just the man for me!
I had my father for 53 years and for that I am sincerely grateful.  I was so proud to call him Daddy. I was never hungry for love, as my parents gave us that in abundance.  My husband and I passed that on to our children.
In my eyes Daddy was the smartest man alive, with such a wicked sense of humour. He used to joke with my friends and sometimes used to worry if he was being too forward. Everyone who was close to him got his jokes and enjoyed his witty comments. He was kind, generous, loving and considerate.  He was hard working – whatever he did, he gave his all and did it extremely well.
He was a sensitive man who used to shed tears during sad movies!  How much he used to worry if any of us were sick.  Recently, when I was in Australia for my younger son's graduation, he showed so much concern over my migraine though he was saddled with his own health issues.  I also remember how he would never sleep until we got home late at night, even though we were married adults.  It was these small loving and caring gestures that made him extra special to me.
As a child and as an adult I remember this perfect gentleman.  Be it at the Doctor's or at a party he would be the first to get up if there was a lady or a pregnant woman and offer his seat.  In an elevator he would never get off until all the ladies and children had exited.  This was my father – a gentleman in every sense of the word.
Every holiday when I went back home he would make sure there were passion fruit and Elephant House strawberry ice cream in the fridge.  At the dining table if there were only a few pieces of mango on the table he would say "not for me" as he would rather watch my boys and Amma enjoy the treat.
When I was young he would keep saying, "If at first you don't succeed try, try, try again".  As a result I try not to give up even through tough situations.  As long as we did our best he was happy. He was so proud of my work as a teacher and I remember showing him letters of appreciation from parents; he had tears in his eyes. They were tears of joy and pride.
Well, Amma had 57 happy years with him. She was the rock upon which our family rested, the vital link which stretched across oceans to keep us together as a family unit.  She did such a good job in looking after him. She used to climb those stairs at least 20 times a day. But God did give her the strength to help Daddy.  She did it all without any of her children to give her a helping hand as they were all employed and domiciled overseas. Taking care of him came naturally to her.  She knew in her heart what a giving and loving husband he was and how well he provided for her and all their children. It was us that always came first for him. He was so proud to walk beside her.  She meant the world to him.  She still has the first present he gave her.  A small bottle of Chanel perfume.  Well now it is time for us to care for her like Daddy did.  I promised Dad that at his funeral and I will keep to that. My brothers will do the same. It is hard for Amma but prayers help her to be strong and understand that such is life.
I miss our chats Daddy – more than you will ever know.  Though I still talk to you I don't hear that young voice at the other end.  Absolutely nothing will be able to fill this void in me.
Thank you for blessing me with this wonderful father. A father, perfect in every sense.  Life for us will never be the same without you in it.  But we will go on with you in our hearts for all the days of our life, till we meet again.  My deepest thanks and utmost gratitude for loving me, making me feel good about myself, guiding me, supporting me, comforting me, believing in me, picking me up when I was down, keeping me safe and for making me the woman I am today. I have admired you all my life.  Love you always Daddy.
- Ayoma
---
Mangala Moonesinghe
Diplomat par excellence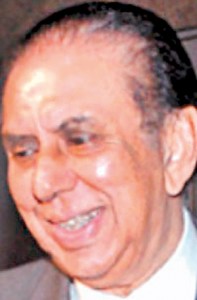 Shortly after we went to New Delhi it was our good fortune that Mangala was posted as the High Commissioner. The close friendship we developed with Mangala and Gnana in the 1990s during a five-year stint continued and in fact just a few weeks before Mangala passed away we had dinner with him. Though not in the best of health he enjoyed listening to the conversation and contributed with humorous anecdotes.
Managala was an erudite scholar with a deep knowledge of law, Buddhism, human civilization, politics and philosophy. He never tried to ostensibly demonstrate how learned he was; it was left to any discerning listener to infer that whenever Mangala spoke. He never had a bad word for anyone- a rare quality. "Well, the world is made up of all sorts of people," was his usual comment when someone spoke ill of another. He advocated peace and non-violence and the report of the Select Committee he chaired speaks volumes for that approach.
Both in New Delhi and in London, Mangala set a high standard for diplomats. The doors of the High Commission were open to all; no one was allowed to go without relief. He went out of the way to facilitate and help. Other people's problems were treated as his own – he had a great sense of empathy. This is a quality he displayed even as a Member of Parliament. Gnana and Mangala were the perfect hosts. Sri Lankan and foreign friends enjoyed the delightful evenings spent in their company. Mangala presided over many functions- he conducted sessions with dignity and decorum. He had good writing skills- to the point and in a succinct manner.
Mangala's tenure in both New Delhi and London was during periods when the Sri Lankan government faced many thorny issues in diplomatic relations. Managala had the vision to understand how events might unfold and accordingly intervened with tact and foresight. He was held in high esteem by the diplomatic community in New Delhi and from what we have heard even in London too. He never minced his words. Even unpleasant official decisions were communicated in a manner that provided the context and the rationale for diffusing further tension. This is a quality and skill only of a diplomat par excellence.
Mangala was a family man- a perfect and loving husband and father to his devoted wife and children. He carried Anagarika Dharmapala's mission and was instrumental in helping the Maha Bodhi Trust in many activities. His passing away was a blow not only to his family and friends but even to the cause of Buddhism in India.
We are reminded of the words of Shakespeare in Julius Caesar:
"His life was gentle; and the elements
So mixed in him, that Nature might stand up
And say to all the world, THIS WAS A MAN!"
Only a few qualify to be described in this way; Mangala is definitely among them.
May he attain the Supreme Bliss of Nirvana.
- Dayanath and Shanti Jayasuriya
---
Padmasiri Silva
My cousin, a man with a caring nature and open house
Padmasiri was born on October 2, 1937 to Dr. James Silva and Charlotte Rodrigo from Panadura. He studied at Wesley College, Colombo and excelled in sports, playing tennis and badminton for the school. He started his planting career at Kabaragala Estate in 1960.
He was  my cousin and we became very close when he worked as Assistant Superintendent of Kabaragala Estate under Mike Wijenayake where I was a frequent visitor. I once collected Rs. 60 during the Sinhala New Year from the gifts given by parents and relatives. I was short of Rs. 25 to pay Lionel Learners to learn driving. Padmasiri Aiya generously gifted me the money.
From Kabaragala Estate he joined Geekiyanakanda Estate, Neboda.  Though he was an elder cousin and we looked up to him, he was always ready to join our pranks. Often his cousins namely Deva Rodrigo, Chandrasiri, Ariyapala, my brother Chitrasena and other friends went to "Singing Mount" (Geekiyanakanda) to spend the holidays.
He chose me as his best-man when he married Iranee de Silva, the daughter of lawyer M. W. R. de Silva, former MP for Gampola. After working mainly in Badulla in the seventies he came on transfer to Glen Devon Estate in Ragala, where he obtained the highest yield in the area, with a record yield of 2300 kgs tea per hectare. My friendship with him continued to deepen at that time with frequent visits being made by my wife Janakie and me to their estate. After he retired from planting from Thannahena Estate, he settled down in Kandy.
Thereafter he and Iranee Akka managed their own "Hillway Guest House" until his demise. He loved his friends and relations and no visitor was allowed to go without a meal. When my son was admitted to Trinity College he and Iranee Akka were very helpful. Practically every weekend we were at Hillway Guest House with our son, enjoying his lavish hospitality. He was a person with a large heart and open house and he and Iranee Akka loved to entertain and she was a wonderful wife loving and supportive to him. He loved to chat and always gave sound advice if and when so requested. Medical advice regarding food he never followed but enjoyed his life to the fullest. He was a tower of strength to us at every step of our way.
Iranee Akka and the family will miss him but can take comfort in the fact that he led a fruitful and rewarding life.
- Janalal Rodrigo