Words flow from the flavour of food for this foodie
View(s):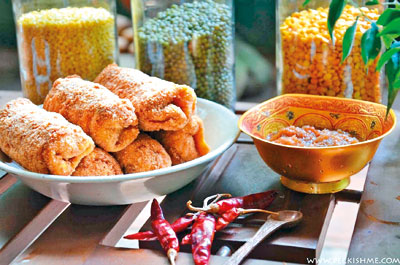 I am in constant conversation with my ingredients," Jayani C. Senanayake says. A foodie to the core, the blogger says she asks her ingredients the most intimate questions: "What makes you break out into song? What makes you puff out your plumes and dance?" Each discussion is its own reward, inspiring her culinary creations.
Jayani who blogs at peckishme.com tells the Sunday Times that she believes cooking is modern day magic. "Pairing up the piercing indolence of the sour, the delicate cotton candy of the sweet, the passionate earthiness of the salt, the heartbreaking caverns of the bitter and the midnight silk of the umami is an enchanted art. It is this enormously satisfying feeling of creating real life miracles that I find myself drawn to again and again."
The 28-year-old is a web specialist by profession but studied French Language and Culture for her degree. Born and brought up in Sri Lanka, she has travelled widely, living for brief spells in India, Pakistan and Australia. A published poet, she is proud to have been the youngest writer admitted in to the English Writers Cooperative of Sri Lanka, and held the position of its treasurer for five years.
Her interests are not limited to food and writing – she is a trained dancer, having mastered Ballroom, Latin American, Flamenco and contemporary dancing styles, and also learned how to play the violin. "I almost became a lawyer, almost got a PhD," she says, adding quickly, "Thank God I got bored before I did!  I am currently writing a novel as well and toying with the idea of publishing another collection of poetry."
Below are excerpts from an interview with Jayani:
- When did you first become interested in writing about food? What about this
subject fascinates you and keeps you returning to it?
Writing and eating being two of my favourite things to do, I've always been writing about food, in one way or the other. Initially I wrote for myself, just like I would pen a poem or a short story and as a means of keeping track of the recipes and the food that I've tried. And then food writing became a thing, so here I am today, doing what I have always done, albeit with a name defining what I do.
I've always been a foodie, I think it's in my blood. I come from a long line of exceptional cooks and I grew up watching my mother conjure up all kinds of magic out of pots, pans and ovens – the kind of happy magic that transforms your mood into something better instantly. To this day when I am home, I wake up to a warm and welcoming house fragrant from the smell of cooking and come home from work to the same. Cooking and baking are therapy. They had always been my stress-busters whenever I was feeling down.  
- Tell us about Peckish Me. What sets it apart from other food blogs out there?
What makes Megadeth different from Metallica,what sets Gabriel Garcia Marquez apart from Isabel Allende, what makes Quentin Tarantino different from Guillermo del Toro, what sets Salvador Dali apart from Frida Kahlo –I like to believe that a food blogger too is an artist who most of the time defies definition and comparison.
Peckish Me combines poetry and food and represents all that is good and wholesome in life. While focusing on healthy food for a healthy body, Peckish Me also advocates food for the soul (think gooey chocolate cake and addictive treacle cake fresh out of the oven on a rainy day) and does not skimp out on indulgence because really, life is too short for "thou shall not"s. It is necessary to misbehave once in a while to get the most in life. Peckish Me also focuses on Sri Lankan cuisine, concentrating on taking our flavours out there into the world because we have got an amazing culinary heritage which hasn't really got the exposure that it so deserves.
- What do you like to cook? How do you choose the recipes you put up on the site? What difficulty level are they at?
I fancy myself a baker much more than a cook. I have a primal longing for plunging my hands knuckle-deep in dough and to feel it breathe, take shape and come to life caressed by my exploring fingers. Putting things in the oven and then have them magically transformed once they come out gives me immense pleasure.
I cook what my soul demands. I also indulge the requests of readers and friends. I am a lazy cook, so when I cook a recipe, I make sure that I find the easiest way to execute it. So most recipes are between "super easy" and moderate" levels while a few may require more technical precision.
- You have posted reviews of restaurants and products, but you also reviewed your own wedding. What made you decide to do that?
Peckish Me is all about sharing the joy of life and in the small way that I could, guiding people. It was midway into the wedding planning that I discovered how daunting a task a wedding actually is. I figured, if I was struggling with my own wedding, as simple as it was, others may be too. I did not have a guide to go by and I know I would have appreciated one. So the review was for whomever may need it and just as predicted, there were lots who were grateful for it.
- You are also a published poet. How do you find these different forms of writing
feed into each other?
Food for me IS poetry. It is sensuous in the way that gravy coats your fingers, lingers on your taste buds, how your tongue wraps around and glides along the flavours and the varying textures – the crunchy, the mellow and the chewy – and how certain aromas serenade you and stir you from within. It is this that I try to capture with words and pour them out by way of words and photography. Food is an art in its most basic form and I believe that food writing is a sort of poetry in its own right.