Letters
View(s):

It's party time for mossies and goodbye eradication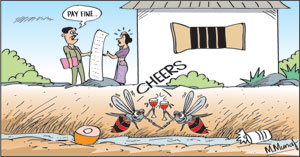 That the anti-mosquito campaign is a failure is a foregone conclusion, proved not only by the ever- increasing number of cases of  dengue in spite of millions being spent by the government but also by the way government officials go about taking action  in fits and starts.
Once in a blue moon, there will be a flurry of activity from the officials and every house in a particular area will be visited and those who had even a coconut shell with stagnant water will be hauled up in court to pay heavy fines. Fair enough. But the mosquitoes must be having a hearty laugh since the very drains just outside these same  houses  will be full of muck and stagnant pools of water.
True that dengue mosquitoes breed in clean water – thank God for that – and do not breed in the drains since they are not clean and often running water may wash away the mosquito's eggs. But a dirty drain smells horrible and breeds many other germs. And  the efforts of the municipality officers are  half baked, half hearted and show a lack of commitment.
Speaking to an officer I pointed out that their actions are half hearted and not committed to cleanliness as a whole and what he said summed it all. He said, "Eva Apey wada novey!" – that is not our job – meaning my job is only to catch as many as possible culprits. If I don't educate them, I'll catch  even more next time!
If the officers who visit are more concerned about cleanliness in the lanes and about actually eradicating mosquitoes, their attitudes will be totally different. Instead of gleefully issuing  warrants to the householders, feeling grand that they 'caught' so many errant householders, they would have taken  a holistic approach.
They would have  first made sure  the drains are clean for that's where most mosquitoes breed.
I know of  householders who clean the premises only when they hear that health inspectors are in the  area and if they don't visit the houses they express a sigh of relief and leave everything as it is. In fact, if the process was done properly then the householders will actually invite the inspectors in and ask them to check out the premises for often we fail to see mosquito breeding areas in our own premises.   Now and then the Municipality wakes up to the fact that the  drains in the lanes need cleaning and there is a flurry of activity, a whole battalion of labourers and supervisors will land on the lane, removing  overgrown weeds and the garbage obstructing  the flow of water in the drains. For a full day there will be activity and then, all what they removed  will be dumped in heaps right along  the curbs and they will disappear.
When questioned they will assure that these will be removed during the course of the day, but alas! The heaps  will  remain for days to come, inconveniencing the pedestrians and the motorists. Then  little by little they are kicked back into the drains by vehicles, the pedestrians and the rain. The drains will be blocked even worse than before and we can rest assured the municipality workers will not be sighted for at least another three months!
There is no planning, no coordination between the labourers and those in charge of the municipality  vehicles, and no consistency in the project
Until then,it's party time for  the mosquitoes and goodbye to the eradication.
Dr. Mareena Thaha Reffai
Dehiwela
---
What about our own homegrown talent?
It is no secret that we have many talented artistes in our country. They are proficient in every sphere but  many hardly get any recognition for their talents.
Instead of promoting and nurturing them, we seek entertainment from abroad in the form of meaningless teledramas which are not suited to our culture or our people. People are sometimes misled and they begin to approve of this kind of  superficial lifestyles, grandeur and accent on beauty.
I appeal to those responsible to put an end to this and instead promote our own talent and our great cultural heritage.
Anandi Kulatilleke
Maharagama
---
Mega Bamba project that will lead to mega problems
Many of us living in Bambalapitiya are dismayed about the proposed giant condominium project in the precincts of the Bambalapitiya Flats.
The area is already congested with residences, offices and many other buildings. Even residential areas that were given a protective legal status have been invaded by commercial establishments and the authorities have turned a blind eye — this speaks volumes about state promises  about checks and balances. Who cares about the people's wellbeing, peace and serenity?
We must not forget that there are half a dozen schools in the vicinity. One can imagine the mayhem that would be caused by such a giant project. Such development would increase the traffic.
Let us consider the positive aspects of not going for this sort of grandiose development. Living in a house instead of apartments enhances quality of  life.The Bamba Flats in the '60s were full of Burghers  and they were like one big family, sharing, caring and protective of each other. We seem to be fast losing this in our high walled and high rise apartment blocks.
One needs to have easy access to garden space – a place where one can enjoy nature.
Finally many residents of the Flats are widows and senior citizens. Where can they look for alternative accomodation? They would feel disoriented and have difficulty adjusting to a new place.
Gerard
Colombo 4
Letters to the Editor

'Letters to the Editor' should be brief and to the point.
Send them to:

'Letters to the Editor
'The Sunday Times,
P.O. Box 1136, Colombo.

or editor@sundaytimes.wnl.lk.
Please note that letters cannot be acknowledged or returned