Appreciations
View(s):

Tissa Dias

He lived in the present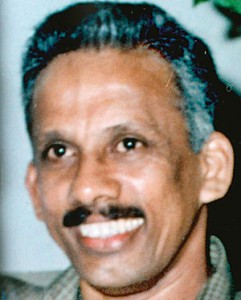 Our meeting was a sheer coincidence. Seeing our good friend Bandula Tissa Dias that day was most unexpected. Mind you a month or so prior to his untimely death.
I was heading to Nuwara Eliya with a group of foreigners. He told me that he was returning home after a recuperative holiday in the hills. Our venue; a well known tea centre at Talawakele. I remember vividly he looked well rested, happy and cheerful. As usual, the broad smile enlivened his countenance.
As an avid lover of nature and the environment, he was admiring the panoramic beauty around. Not so harsh rays of the sun kept the cool ambiance in check. Sprawling green tea estates extended as far as the eye could see. At the parting moment, we both had another quick look at the cascading waters of Devon Falls.  Soon we travelled in opposite directions.
An as old boy of Isipathana College and the writer having taught at Thurstan College; Rugby Football was our common topic. On leaving school Tissa entered the University of Moratuwa to pursue a course in Information Technology. Later he widened his horizons with international exposure in Qatar, Saudi Arabia and United Kingdom.
Our paths crossed again, when I joined Lake House as the Editor of Vidunena Science Magazine catering to Advanced Level and Ordinary Level Examinations. He had joined the Lake House IT Department.
It was a constant vigil for me in search of quality science writers of repute. Tissa's wife, who had proved her mettle as A/L Botany teacher on the tutorial staff of the school by the sea at Mount Lavinia, coached pupils over the years. They entered the universities with distinctions. Our son was a pupil of hers too. She wrote the A/L article in Botany for Vidunena.
Tissa was a caring husband and devoted father to his sons; both Thomians. His loving care extended to Champika's aging parents. They kept a symbiotic relationship with their neighbours, all along.
Tissa was a devoted Buddhist going to their nearby Temple with his family. He was rooted to the ground firmly. Unlike most parents, he avoided the 'rat race' of the present society.
I remember reading an answer given by Dalai Lama to a question. When asked what surprised him most about humanity he quipped "man sacrifices his health in order to make money, then he sacrifices money to recuperate his health, and then he does not enjoy the present."
But Tissa was different; he lived in the present and was anxious and hopeful of the futue. Unfortunately he left us due to a heart ailment having left an indelible void in our hearts. Also he was just short of one year for the half-century milestone. On his tenth death anniversary our affection and sympathies continue to his wife Champika and two sons Supun and Nipun. They too, follow in his footsteps with the same attitude towards life.
When fond memories rekindle in our thoughts, George Eliot's simple quote comes to my mind.
"The golden moments in the stream of life rush past us and we see nothing but sand. The angels come to visit us and we only know when they are gone."
May Tissa attain the Supreme Bliss of Nibbana!
- Banduransi Perera
---
RUSHANTHAKUMAR K.
Sweet memories of a wonderful person
It has been almost a year since he left us suddenly on that fateful day, leaving a big vacuum among relations and friends. It has been God's wish that he should depart from this world and be taken back at a very young age of 29 years. The only consolation for all of us is that during the short period in this world, he had led an exemplary life excelling in many fields like education, sports, religious and social activities.
He had his early education at St. Peter's College, Bambalapitiya where he excelled in studies, scouting, and swimming and in Tamil literary activities by being the President of the society. He had the opportunity to enter the University of Colombo obtaining 'A' grading in all three subjects but he opted to join the London School of Economics and graduated from there. He completed CIMA too simultaneously obtaining Honours. He worked for a short period in Sri Lanka and went on skilled migration to Canada where he worked as an accountant till his demise. While in Sri Lanka, he was an active member of the St. Lawrence Church in Wellawatte and functioned as the well accepted leader of the Youth Council of the church.
He came on holiday to meet all of us in April, 2015 and was here for almost three months. I will now relate two shocking events that took place, which we are still puzzled and unable to explain whether to consider them as premonitions. Within the short period here on holiday, he had visited almost all his friends and relations without even waiting for their invitations and spent time very jovially with them. While coming on holiday here, he had visited Rome during Easter and had been very fortunate to have the blessings of the Pope. All Catholics who were there were delighted to see the young man getting the rare opportunity and we wondered whether God was preparing him for their intimate encounter to follow.
It was on July 15, 2015, the unfortunate incident took place where he was knocked down by a moving train in Wellawatte when he went to the beach to get a little fresh air.
You have left us with sweet memories within the short period you lived, of all the good you did and what a wonderful person you were to all of us. Lord Jesus please keep him in your safe hands.
May his soul rest in peace.
- S. Raghavan
---
Padma Maharaja
My dear Aunty Paddy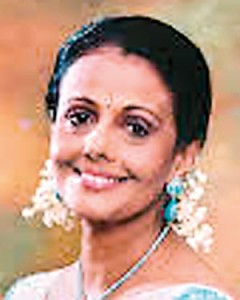 Today, I will reveal my long-harboured thoughts, tainted with some pride, of the impact that you and you alone have had on my life. In my younger years, I often wondered what it was like to have hacked through the jungle of Cinnamon, armed only with an erect gait, unshakeable poise and a name more often a curse than a blessing. A single woman in a snare-strewn earth populated with wolves, she-wolves, and a churchyard of living gargoyles steeped in sanctimony. In the polyester lounges of Colombo living rooms, where our own race of chauvinists practised cannibalism, I observed their use of misogyny as a strop to sharpen their razors. The Sun's rays fell upon wilting frangipani that bowed in obeisance to these throwbacks of an ultra-orthodox world. They spoke one language to the native, and another to its well-heeled trollop. The underlying theme was always the same – money with no substance. Empathy was absent as water in the long droughts that plagued our gardens.
Sometimes, I watched from the seat of my bicycle, at others from my dining table, your charity to fools and enemies alike. Magnanimity was your birthright, my Aunt.  Lest I forget the second instance of it, I must mention the servings of chilli in your curries, which would have been better served as tongue-lashings, rather than a meal to sate a man's hunger. Nevertheless, I bless your cook!
In the autumn of your life, your appointment as Social Secretary to the President (another woman) was met with equal ferocity from the chaise lounge army, but you still served them guava juice. Every loss that I endured could not be measured, thanks to you.  For to lose at love, to lose one's children… Ah! What does "loss" truly mean?  It is a word that has no meaning. Your constant presence as my aunt and friend was the karma I received from a Universe of truth; that was my treasure.
The Universe robbed you at your most resplendent. That bothersome illness sat in you like a plague of locusts feasting on my country's best fruit, and all you had was my friend  'Shobi,' with a fly swatter to save you, and Sherriff, standing just as solidly and quietly by you in your weakest moments as he did in your strongest.  I was powerless. The earth made no noise.It simply turned and turned – and today it stopped.
You see, Aunty Paddy, your Mother was mine, your sisters were mine, and I was always yours.
There is no doubt that I will miss you. Your name was the flower that gave a road its name.
- Sherhan
---
ALBERTA FERNANDO
A great and true friend
It is now one year since Alberta, at 75 years of age, quietly and peacefully slipped away without warning, from our midst into the arms of her beloved Creator.
She was a great friend, true and sincere, a stalwart support and steady prop at all times, turbulent and otherwise. In sharp contrast, she would reprimand and rap me sternly for my many wrong doings!!
Stark simplicity was the keynote of her nature and attire meticulously neat and a typical school 'mam'. A committed teacher, she respected and enjoyed the noble profession she was engaged in. A 'foodie' in her own right she imparted her cookery skills to us ignorant novices. Her rich fruit cake, akin to the traditional Dundee cake, was an individual masterpiece. This she turned out every Christmas and coupled it with a mellow 'muscato' for all of us who dropped in on her.
She would always turn up at home in the afternoon of the day after my birthday. We would spend the afternoon next to the Actaria tree chatting, laughing and crying too, sipping fruit juice in the backdrop of bird twitter. Those were the days…
I miss the warmth of her friendship. Undoubtedly she is in a 'super special' plane. May she be at peace, peace that she richly deserves.
As rivers flowing down become indistinguishable on reaching the sea by giving up their names and forms, so also the illumined soul having become freed from name and form reaches the self effulgent Supreme Self – Mandaka Upanishad
- Kiru Jayatilaka
---
H.M. Seneviratne
Great scholar, mentor and ideologist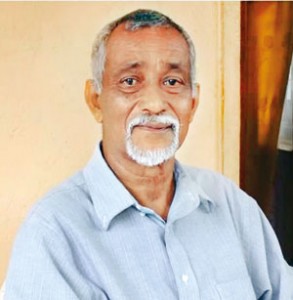 H.M. Seneviratne, Senevi to his friends, was widely acclaimed as an eminent lecturer in Education, especially in Educational Administration. He was considered an asset when there was a severe shortage of staff to teach the subject at the universities. This gave Senevi an opportunity to train many of today's high ranking scholars and practitioners in the field of Education and outside. He was well-known for his dedication to students and he was proud to see many of them achieving high positions in the Education sector. He had the qualities of an impressive teacher and he always imparted knowledge in the correct perspective.
Before joining the university service, Senevi was a teacher in the Department of Education and served in three schools. Even as a teacher he shone and proved himself to be dedicated to his field and his students. It was during this period he successfully followed the post-graduate Diploma in Education course at the University of Ceylon, Peradeniya and won the Khan gold medal in 1970 – to this day Senevi considered this to be the proudest achievement in his academic career. Senevi joined the teaching staff of the Faculty of Education at the University of Ceylon, Peradeniya and later at the University of Colombo in the same capacity (when the Faculty was shifted there). He won the Commonwealth Scholarship Award to pursue post-graduate studies in 1981 and completed a Masters degree at the University of New England in Armidale, NSW, Australia.
Senevi, though every inch a scholar, kept his close touch with the common man. He always gave them counsel and advice whenever they needed them. He hailed from Dahamune, Pilessa, Kurunegala and he received his primary and secondary education at Maliyadeva College, Kurunegala.
It would take quite some time for us, his batch mates, to reconcile ourselves to the fact that this great scholar, mentor and ideologist is no more. Our condolences go to his wife Kamala and to his ever loving daughter Tushari who cared for and looked after him during his illness and throughout.
- W.R. Gamini De Silva