An unforgettable evening
A note from Perth
View(s):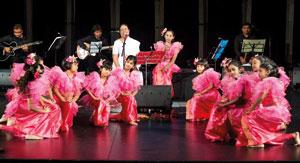 Two veteran artistes appearing on stage together supported by a young talented six-person orchestra led by an upcoming music director turned out to be a rare treat for Sri Lankans in distant Perth, the West Australian (WA) capital. I can't remember a single occasion back in Sri Lanka when Nanda Malini and Victor Ratnayake appeared together. Neither had I seen Suresh Maliyadda directing music.
They came on the invitation of the WA Old Anandians Association which organises an annual  musical event to collect funds for their alma mater. Victor was the first to be invited four years ago. Nanda Malini came the next year. Both were invited this year due to popular demand.
From the early 1970s I had enjoyed Nanda Malini's solo performances many a time ranging from 'Sravana Aradhana' through 'Pavana' to 'Swetha Rathriya'. I have lost count of the times I had relished Victor's 'Sa'. But the Perth show was different. It was a novel experience. Nanda Malini sang first followed by Victor, then they appeared together. In the last segment, Nanda Malini again sang alone and Victor wound up the show with'Sandahirutharupavatinaturuapimerennme ne' –reminding that we will be reborn and continue in 'sansara' –the fans joining the chorus.
When they sat together each sang songs with an identical theme. Mother love was one of them.  After Nanda sang'Ammavarune', Victor followed up with 'Aadarayeulpotha'. Nanda's 'Sulangkapolle' was followed by Victor singing 'Sandakenvesila'. And so on they went on.
While the audience deeply appreciated the line-up of songs, they were treated to some interesting anecdotes about their musical careers.
Nanda Malini made it a point to sing a few film songs. In some music had been directed by Victor. Among them was 'Denodahaknuvanathare' from the film 'Vajira'.
It was a fine gesture on the part of both of them to sing a duet with locals in Perth and also use choreography for a couple of songs, again featuring children and young girls resident in Perth. Allowing a girl to sing parts of the children's favourite 'Ayanna kiyanna' by herself, while a bevy of children danced, Nanda Malini commented that it was so satisfying to see young ones not forgetting their mother tongue. The performance by teenagers was so professional that it was proof of the capabilities of the Sri Lankan teachers here.
Suresh Maliyadda and his team of young musicians contributed in no small measure to make the evening a memorable one. The six of them performed what normally a full orchestra with at least 15 musicians would do. The quality was excellent. Suresh who was on the keyboards was supported by Nihal Kalubowila (tabla), Rukshan Gunawardena (violin), Indika Rajintha Pathirage (flute), Buddhika Perera (guitar/mandolin) and Mahendra  Pasqual (guitar). They all show so much promise.
Both Nanda and Victor made it a point to express their gratitude to the lyric writers and composers.
To the Old Anandians of WA, a 'big thank you' for selecting a hall with superb acoustics and paving the way for a most entertaining evening.
- Dee Cee