Megapolis Ministry to go ahead with projects despite obstacles
By Anthony David
View(s):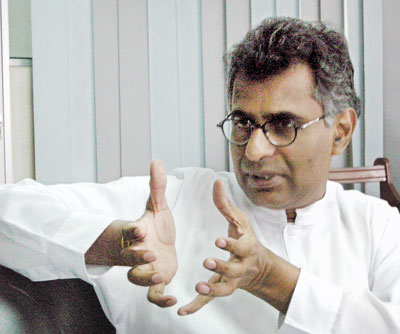 The Megapolis Ministry will push through its projects despite obstacles including a delay in introducing a Bill to create a separate Authority and difficulties in acquiring land in highly urbanised areas, said Minister of Megapolis & Western Development, Champika Ranawaka.
In an interview with the Sunday Times, Minister Ranwaka said the planning stage of the Megapolis has already been carried out, taking into consideration all previous plans including the Colombo Metropolitan plan.
He said the other stages are the preparation of the Strategic Environmental Assessment taking into consideration sensitive areas, conservation of bio-diverse hotspots, low-lying areas and wetlands in the Western Province where 17% are waterways and 30% are low-lying areas.
The economic and financial plan and the business marketing plan including plans on creation of jobs, is the next stage to identify prospective investors and the countries to be invited for projects.
Minister Ranawaka said that, creating a separate Authority known as Megapolis Authority under a Bill to be presented to Parliament was required, and the delay in forming the Authority was an impediment. However, Government has decided to use the existing powers under the respective ministries and proceed.
He said a draft was submitted to Cabinet for its observations, after which it had to be re-drafted.
"We cannot delay the implementation and therefore, powers vested under the Urban Development Auhtority and the Sri Lanka Land Reclamation & Development Corporation are being used. We are also working with other ministries such as Highways, Transport, Provincial Councils, Ports & Aviation, and other institutions subject to our requirements," he said.
Minister Ranawaka said land acquisition is the biggest issue and, unlike the previous government, they would not use force or the military to evict persons.
"There are challenges, unlike implementing something like the Mahaweli project where there were only a few people in the area, and the problems were minimal. In this case, we are looking at implementing projects in an already congested area. There are issues similar to what we experienced in Bloemendhal, when trying to evict some families to reconstruct the oil pipelines between the Port and Kolonnawa," he said.
He said the new Kelani bridge project under which a parallel elevated bridge is to be connected to Orugodawatta junction, has been delayed for the past one-and-half years, as the Atomic Energy Authority building located in the area needs to be shifted. However, it cannot be shifted to its new location in Halbarawa, Homagama, as the residents, backed by the JVP, are agitating against shifting the building there.
He said the bridge and elevated road were necessary to ease traffic congestion.
Minister Ranawaka said the proposed Marine City project between Wattala and Wellawatta requires an additional 500 MW, while the Public Utilities Commission of Sri Lanka envisages an energy shortage by 2018/19.
"There are other issues such as water, sewerage and flood prevention which we need to overcome," he said.
The Transport master plan under which Multi-mode transport terminals have been identified with the main terminal in Pettah, is set to get priority under the Megapolis projects.
To make way for this project, Manning Market which occupies 4.5 acres, is being relocated to an area of 25 acres in Peliyagoda.
By the end of next year, the Pettah Multi-mode terminal will be ready with Bus and Railway services amalgamated from there. Other terminals are coming up at Kottawa, Kadawatha, 18th milepost (Negombo Road), Panadura, Piliyandala and Kaduwela.
The ministry also plans to introduce multi-mode transport systems to Kandy and Kurunegala.
A new road from Galle Face, via Ingurukade Junction (Grandpass) to link with the new Kelani bridge and the expressway, has also been proposed. Another road from Pettah station is to be connected to the same road at the Colombo Port. Colombo Port City and Pettah will directly connect to the expressway network .
Battaramulla will have the main administrative city with 113 State buildings in Colombo, including ministries to be shifted there.
In order to resolve the housing problem, Government has already completed 5,000 units, while another 17,000 houses are under construction, and will be completed within the next three years. A total of 68,000 houses are required to resettle displaced people.
The Ministry also hopes to introduce Middle class housing schemes situated in mini cities. They will come up in Ratmalana, Ragama, Piliyandala-(apple watta), Maharagama, Kottawa and Kirimandala Mawatha, Narahenpita. They will have waste management, water treatment plants, generate their own electricity, schools, hospitals and a mini transport hub, and will be developed with private sector partnerships.