What do our pets do when we are out?
'The Secret Life of Pets'
View(s):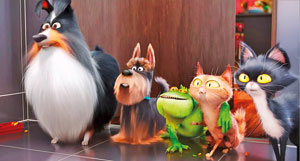 Latest Hollywood animated comedy 'The Secret Life of Pets', a story about the lives the pets lead after their owners leave for work or school each day is now being screened at Liberty Lite 3D and Sky Lights Malabe 3D.
Directed by Chris Renaud and Yarrow Cheney, the feature-film is a collaboration of Illumination Entertainment and Universal Pictures. Comedy superstars Louis C.K., Eric Stonestreet and Kevin Hart make their animated feature-film debuts in The Secret Life of Pets, which co-stars Jenny Slate, Ellie Kemper, Lake Bell, Dana Carvey, Hannibal Buress, Bobby Moynihan, Steve Coogan and Albert Brooks.
Max (Louis C.K.) is a spoiled terrier who enjoys a comfortable life in a New York building until his owner adopts Duke, a giant and unruly canine. During their walk outside, they encounter a group of ferocious alley cats and wind up in a truck that's bound for the pound. Luckily, a rebellious rabbit named Snowball swoops in to save the doggy duo from captivity. In exchange, Snowball demands that Max and Duke join his gang of abandoned pets on a mission against the humans who've done them wrong.