Just for laughs with "Playing Doctor"
By Duvindi Illankoon
View(s):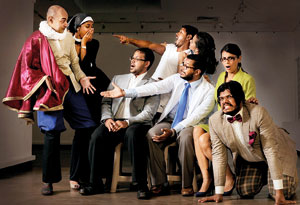 R ob Brewster is in trouble. He's a struggling writer scraping his way through city life with an interesting circle of friends but a not so interestingly poor fortune to his name. His parents think he's a doctor, he's definitely not a doctor, and now they're about to pop in for a long overdue visit. Rob has to think fast-does he own up to his lies or live a double life for the day?
Since we can't have a farcical comedy without an actual farce, and because you would have been thoroughly disappointed if Rob had chosen the morally righteous path, playwrights Billy Van Zandt and Jane Milmore chose the latter option for their protagonist. "Playing Doctor" unravels as Rob hilariously stumbles his way through this parental visit, casting his friends as colleagues and patients in an imaginary life as a doctor.
Director Vinodh Senadeera chose the script for his 60th production as he  is quite fond of this particular play-he first staged it in 1996 with a cast from S.Thomas College Mt Lavinia (where he used to be a teacher before joining the faculty of Colombo International School) and it was met with resounding success.
Vinodh returns with not just one, but three original cast members from that 1996 production reprising the same roles. Shanaka Amarasinghe plays Rob Brewster, Delon Weerasinghe his roommate Jimmy and Ravin Fernando Chuck, their slightly psychotic next door neighbour. Shanaka says that he has more empathy for his character this time around-now that he's taking it on with 20 years of hindsight. His character Rob holds the plot together; as in most farces, he's the solid, grounded character while those around him take on exaggerated, more comic roles.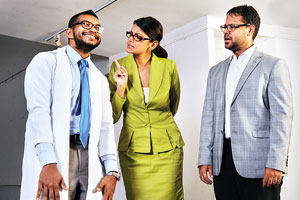 Delon's character Jimmy is a struggling actor-"he's not very good," smiles Delon "but he's enthusiastic." Jimmy plays multiple patients to Rob's doctor. Ravin, on the other hand, plays the psychotic Chuck who has it out for Jimmy-Chuck knows that Jimmy and his ex-wife Maureen are on more than friendly terms.
Then we have Chuck's ex-wife Maureen, played by Pramukshi Kariyawasam. This is Pramukshi's first time on the stage for a public production; Vinodh was her speech and drama teacher during school and somehow she never found time to be more involved afterwards. Hopefully, this is just the beginning, she says -"I've already learnt so much from everyone in the cast." Maureen is a naïve, idealistic young woman. She's also Jimmy's love interest.
Ashini Nanayakkara plays Max, a seemingly naïve, yet strong willed young woman. Max pretends to be Rob's secretary when his parents visit. Working with Vinodh has been a learning experience, says Ashini. "Comedy requires a lot of pacing and energy and working on that hasn't been easy. But Vinodh has given us space to breathe and develop our own characters and that's been very nice."
And what of the poor Brewsters who think their son Rob saves lives by day? Michelle Herft and her husband Jivan Goonetilleke are simply exchanging their own home for the stage to play a married couple-but with very different dynamics. In the play, Michelle's character Janet has one of the most interesting story arcs-she's a submissive society wife who finds her own voice over the play's duration to stand up to her bully of a husband Robert, played by Jeevan.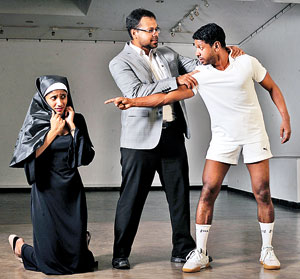 Rounding up the cast we have Danu Innasithamby, playing Uncle Harold. The ultimate hypochondriac, Uncle Harold is brought over by the Brewsters to be diagnosed by Rob. He does not walk away from this well. To find out just how (and also whether Rob's farce turns out to be a success) catch "Playing Doctor" at the Lionel Wendt next weekend.
 "Playing Doctor" is on at the Lionel Wendt from 15-17 July from 7.30 pm onwards. Tickets priced at Rs 1500, 1000, 800 and 600 (balcony) are available at the venue. This production is staged by arrangement with Samuel French Inc.Directed by Vinodh Senadheera and produced by Marlon Jesudason as a Combined Theatre Company production.