Colonial connection; a tale of reincarnation
'Sanda Diya Mankada'
View(s):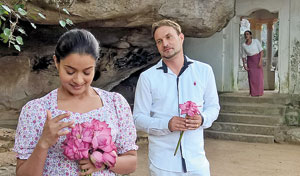 'Sanda Diya Mankada', the newest teledrama on Rupavahini channel narrates a love story of a British boy and Lankan lass that has connection to rebirth  and will be telecast on every Sunday at 8.35 pm starting from today.
The play stars Himali Siriwardena, Jagath Chamika, Chrish Henry, Janak Premalal, Anjula Rajapaksa, Maureen Charuni, Mali Jayaweera, Rohan Ranatunga, Ranga Weerakone, Giriraj Kaushalya, Lionel Wickrema, Sumana Wanninayake, Helani Bandara and D. B. Gangodatenna.
'Sanda Diya Mankada' is based on an event that is said to have occurred some one hundred years ago under colonial rule in Sri Lanka. An English officer serving in Sri Lanka  falls in love with a Sri Lankan girl from an aristocratic family. The British officer loves art and has an interest in aesthetic subjects here. One day he meets Mekala, a girl from an upper class Sinhala family in the Hill country and falls in love with her. Their relationship is objected to by both Mekala's parents and the British government. Mekala is made a virtual prisoner at her own house but they manage to meet each other. The British government expells the officer from Sri Lanka and disappointed by the news Mekala commits suicide. The British officer who comes to know about this returns and takes his life too.
The story of the teledrama takes place in two levels; one is the historical story about Mekala and her British lover and the other the present story of William Jansz who returns from London and feels that he has some strong connection to Sri Lanka. He realizes that he is none other than the British officer who has been reincarnated now. Having settled in Sri Lanka he learns Sinhala from a monk in a temple and gets interested in religion, art and culture here. William starts to study traditional dancing and there he meets Tharupaba, a soul mate who resembles Mekala who took her life for love.
Would William and Tharupaba have to face the same fate of the English officer and Mekala? Who will come against their love? The answers would be found as the teleplay unfolded  with each episode.
To the screenplay of Pushpakumara Ellawela, the teleplay is directed by Vijitha Manjula Sinhalpruthuvi and is edited by Sajeewa Ariyaratne. , camera Amal Liyanage, art director Kokila Wijesundara, make up Premalal Gunatilake, lighting by Nihal Karunaratne and Nimal Senadheera and music director is Navaratne Gamage.
Lyrics are written by Gaya Ramya Alwis and Nilar N. Cassim the playback are sung by Amarasiri Peiris and Danodya Ayoni.