Much awaited cinematic creation on CEL circuit
View(s):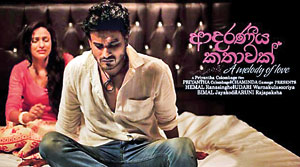 Following the ongoing Sinhala movie directed by Priyantha Colambage 'Adaraneeya Kathawak', a number of much awaited movies to follow up in the CEL circuit cinemas.
'Adaraneeya Kathawak' is now being screened at Regal Cinema- Colombo, Lido- Borella, Amity Lite – Maharagama, Himalee -Kiribathgoda and other theatres around the country.
The film that is next in line is 'Motor Bicycle', a film directed by Shameera Rangana. It revolves around a young aspiring musician who buys his dream Motor bicycle by pawning his mother's necklace and takes his girlfriend on a joyride. His day ends with her breaking up and his finding out he has bought a stolen bike. His day gets worse as he aimlessly wonders in search of what is left in his life.
Among the other movies in the line are 'Ran Dedunnak' (Rainbow) directed by Nalin Rajapakshe and stars Roshan Ranawana, Tanasha Hatharasinghe, Raneesh Hewage, Dinakshi Priyasad, Shanudri Priyasad, Rex Kodippili, Nadeeka Gunasekara, Kumara Thirimadura, Raja Ganeshan, Wasantha Kumarawila, Sunil Premarathna, Nilmini Kottege and Susila Kottege.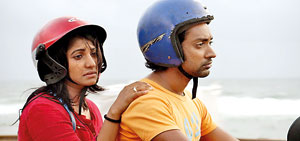 Versatile director Prasanna Jayakody's film '28', which won the NETPAC Jury (Network for the Promotion of Asian Cinema) at the 43rd Rotterdam International Film Festival, in the Netherlands is another film that is slated to be screened in CEL circuit cinemas.
Written and directed by Prasanna, the film stars Mahendra Perera, Rukmal Nirosh, Sarath Kothalawela and Semini Iddamalgodaw in the stellar cast.