Unique pieces of jewellery
By Kaveesha Fernando
View(s):
Jewellery making and psychology. Although these two subjects are seemingly unrelated, Sara Nazoor combines them with ease. A final year student at the Colombo Institute of Research Psychology, Sara uses her interest in the subject to create unique pieces of jewellery which not only look pretty but also convey a message. This young jewellery designer's creations have clearly been successful because at 22, Sara has already displayed her creations at the Art Walk Collection in 2015 and theInternational Art & Design Competition 2016, conducted by Accademia Riaci in Italy.
Sara feels that it all began with the Practical and Technical Skills classes she took as a teenager. Being from a creative family who have even made their own wedding dress and bouquet for one of her sisters, Sara decided to make a piece of jewellery for one of her Practical and Technical Skills projects in the eighth grade.
This interest in jewellery developed gradually and she made pieces for her friends and family throughout her school career, following which she was inspired to sell her jewellery by the positive response which she gained for the pieces.
Although she cannot name one incident which inspired her, Sara feels that her family has been her inspiration throughout. She credits their minimalistic and creative approach to life as one of the things which her jewellery has drawn from. 'My family does not believe in wasting anything and we try and make most of what we need instead of buying everything. I have always been encouraged to try and reuse or restore something without throwing it out the minute it breaks. This has inspired my jewellery immensely' she says. In fact, even the materials which she uses for her jewellery are inspired by this minimalistic approach. Sara uses anything from train tickets to plastic to even safety pins in order to create unique pieces.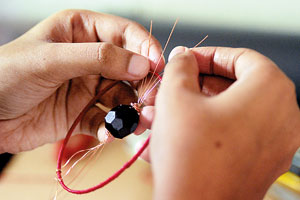 Sara's front to back necklace which was the centrepiece of her Art Walk collection is the greatest example of her jewellery. This unique necklace has a front piece of white and a back piece which is much longer and in black. Working with the Artwalk theme of  'Love your selfie', Sara used one of her friends selfies in order to make the piece. 'I saw one of my friend's selfies where he had managed to take a picture himself from behind and I realised that there's more to people than what meets the eye. This inspired my necklace. The idea of the minimalistic front and wide back is the fact that we all have our own stories there's more to people than what meets the eye' she says.
Another example of her creativity is the piece she made spontaneously to show her ability. Sara begins by asking her customers to give her a quote or concept, and this time she was given the quote 'If I want the moon, I'll bring it down myself' – a quote which speaks of self-reliance. Working with this, Sara began by sketching out her ideas and then made a piece using a bangle, some thread, a large bead and some wire. The bangle wrapped in thread with a bead in the middle connected by wire was her final pendant.
The idea behind the piece was that the bangle represents the circle of life, while the bead represents the wearer drawing what is required from life through the strings. Sara feels that she can work with anyone's budget and requirement to create a unique piece of jewellery for them.
Sara hopes to collaborate with other artists in the future and wants to learn more about her craft so she can take Sri Lankan design and promote it to others.
She also hopes to help people through art therapy, which she believes is a great healer. She can be contacted through her email address 20alke@gmail.com