Dhanak: A Magical Fable
View(s):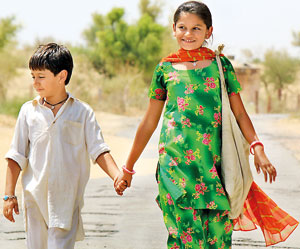 Multi awarded Hindi film classic 'Dhanak' (Rainbow), a story of orphaned siblings Pari and blind Chotu who embark on a journey to restore Chotu's eyesight is now being screened at Liberty Lite, Kollupitiya.
Written and directed by Nagesh Kukunoor, the film was premiered at the 65th Berlin International Film Festival where it competed in the Generation KPlus section and won the Crystal Bear Grand Prix for Best Children's Film, and Special Mention for the Best Feature Film by The Children's Jury for Generation Kplus. It also won the Best Film Award in the main category-Children's Feature Film Competition-Cinema in Sneakers (film festival), and the Best Film Award – at the Montreal International Children's Film Festival (FIFEM).
Starring Hetal Gadda and Krrish Chhabria as the two children, playing brother and sister, in the leading roles, the supporting roles are played by Vipin Sharma, Gulfam Khan,Vibha Chibber, and Vijay Maurya.
'Dhanak' is an uplifting, enchanting, magical fable set in Rajasthan that reinforces the belief that life is beautiful. The story revolves around the wonderful relationship between a 10-year old girl Pari and Chotu, her 8-year old brother who lives in a picturesque village nestled among the sand dunes. Having lost their parents to an accident at a very early age, they live with their uncle and aunt. Chotu is blind but is anything but sad. Happy, precocious and a smart ass, he is the life of the village. Pari is his eyes, his guide and his best friend. And Chotu is the centre of Pari's universe. As children sometimes do, not truly understanding the consequences, Pari has promised Chotu that he would be able to see by the time he turned 9 and as always, Chotu believes her unconditionally. On their weekly trip to the neighbouring village to see a movie, Pari sees a poster with Sharukh Khan (SRK) appealing to people to donate their eyes. Pari is convinced that her reel life hero can help her fulfill her promise to her brother.
Dhanak is produced by Manish Mundra, Nagesh Kukunoor, and Elahe Hiptoola,