'Gotaimbara Kolama' is back again
View(s):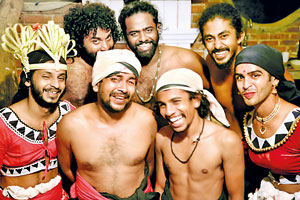 'Gotaimbara Kolama' a novel theatrical experience written and directed by young playwright Dennis Perera will be presented again as an open air performance at the 'Ape Gama' Baththaramulla (Jana Kala Kendraya) at 7 pm on June 25.
The storyline of 'Gotaimbara Kolama' which takes the influence of 'Kolam' and 'Shanthi Karma' (ritualistic dance for curing illnesses and offering blessings) is acted out by the nayakathuma (leader) similar to consistent character appearing in old 'kolam' drama and the team as a traditional ritual for the advancement and wellbeing of the country.
'Gotaimbara Kolama' is a result of an attempt to develop a new dramatic form and a language for Sri Lanka. The play identifies with the ultra-complex life of an average Sri Lankan, whose mental universe consists of devils, goblins and demons and whose political fate is governed by planetary movements.
The playwright and the director of the play Dennis Perera is of the view that this cannot be interpreted by a form of art like the current theatre plays which are deprived in contrast to the richness of the life of the average Sri Lankan and lacks in dramatic values.
'Gotaimbara'Kolama' a political comedy containing diverse meanings at different tiers is written and directed by young filmmaker and director Dennis Perera and it is  a play produced by Hippie Tribe Theatre Group and presented by November Production where Amila Sandaruwan, Dhanuska Dias, Nilanka Dahanayeke, Nino Jayakodi, Dilum Buddhika, Pradeep Ramawickrama, Chaminda Dissanayeke, Pramod Edirisinghe and Shalitha Dissanayeke contribute in acting.
The play is enriched by the choreography of Sankha Jayalath, lighting of Dr. Chandana Aluthge, costume designs of Thisara Imbulana, sponsorship of the Sunethra Bandaranaike Foundation, production management of Anuradha Kodagoda, publicity of Chandana Prasanna and the background set design of Milindu Randika and Chathura Dissanayeke.