C & C ….continues to treat its fans
View(s):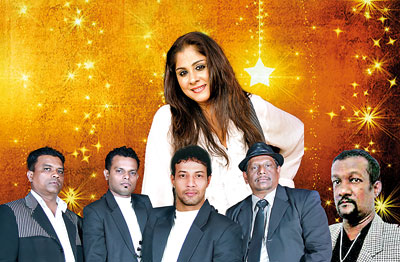 Chandani Hettiarchchi's C & C which has been in the industry for about  ten years as a band and continues to attract and keep the fans glued to their music which is appreciated by young and old alike. The band is known for and chosen for dinner dances, corporate gigs, concerts and performing in the capital colombo's leading night clubs, pubs, restaurants and bars .
Presently they are engaged at Kingsbury lobby on every Wednesday and at the popular Kingsburry brunch every Sunday. Their newest location will be Magarita Blue every other Thursday starting on 16th, where the band will be playing for several theme nights as well.
The present outfit comprises of Chandani on lead vocals, Chaminda on keyboards, Kelum on vocals, Buddhi on bass, Niroshan on lead guitar and Maal on drums and young jacky rejoins the band after a stint overseas. She brings her internationally acknowledged singing prowess to join her original band .
'We are delighted that our fans remain with us and promote us to new fans as a result of our passion to keep them fulfilled with our music. We always believe and work in expanding our wide repertoire and adjust according to the mood of the event which is one of the main factors why we are appreciated by our long standing fans' opinied chandani with sporting her usual smile .
Recently the band entertained its fans at a Live Concert held in colombo which was quite a success. The concert was held on a new mood, where Kasun Kalhara and Manik Chandrika featured The same Concert will be held in other provinces during the coming months and the band is due to under take three overseas trip towards the latter part of the year.