Flood victims cry: Where's all the foreign aid?
By Anushiya Sathisraja
Anger grows among those left destitute
View(s):
Grama Niladharis are under fire from flood victims along the banks of the Kelani who say that none of the foreign aid they have heard about is reaching them and that many who have lost their homes and belongings have not received any help at all.
Three weeks after floods ravaged many of the areas adjoining the Kelani river communities are waiting for the government machinery to move in to provide aid, rebuild houses and provide other relief.
Flood victims stranded in Kelaniya, Kelanimulla and Angoda areas, this week, claimed there was no responsible officer at grassroots level to monitor the process of distributing dry rations to the destitute.
Grama Niladharis have provided packages worth Rs. 1,500 of essential food items to residents in Kelanimulla and Angoda but there are complaints that the package was only worth Rs. 1,000 and that it was enough only for two days.
"Where is the foreign aid going?" B.R. Ishara, 27, a resident of Kelanimulla asked. "There are about 25 families in this lane – none of us got any aid from the government during and after the floods.
"We asked the Grama Niladhari to provide some food packets since we did not get anything but the Grama Niladhari said they could not give this to only a few people," she added.
"I distributed to the victims what the other government officials provided me," the Grama Niladhari for the Kelanimulla area, K.D. Sandarekha, protested.
Questioned about foreign aid, she replied, "I was not informed by any of my senior officials about foreign aid: I only distributed the items given by our government. We didn't ask senior officials for tents, tarpaulins, generators and so on."
"We have set up 25 Disaster Management Centre (DMC) units in 25 districts," DMC Deputy Director Pradeep Kodipilli said. "A large volume of relief materials have been dispatched to the respective districts to be handed over to the Divisional Secretaries.
"The District Secretaries of each district should be responsible for distributing the relief material. At the village level, the Grama Niladharis are responsible for distributing relief material."
He also explained the mechanism by which foreign aid would reach the public: the foreign aid will be taken over by the Ministry for Disaster Management and transferred to the District and Divisional Secretariats and finally to the Grama Niladharis to be given out to flood victims. Any remaining stocks would be kept in government storage at Orugodawatte.
Virtually none of the flood victims in the Kelaniya area has eceived foreign relief materials. When asked about this, the Minister of Disaster Management, Anura Priyadarshana Yapa, said all the items had been distributed to District Secretaries' offices islandwide according to their requirements.

But this is at odds with other reports. "We did not receive any foreign relief items from the District Secretary's office other than the essential items packages," the Divisional Secretary for Kolonnawa, A.U.K. Dodanwala said.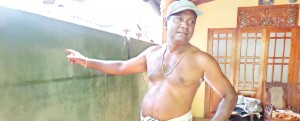 Some people who were trapped in unreachable places have received no attention while those staying by the roadside gained the bulk of the food and dry rations. Government officials who provided dry rations did not want to venture down lanes to check on damage, said Angoda resident H.A. Sumithra.
"We were helpless without food, water and electricity, and were given food by the non-governmental organisations," said housewife R.D.P. Chandani. "We badly need sanitary wear, women's clothes and medicines for children."
"I ask the government to prevent this flooding rather than give out flood relief."
Sixty-five-year-old D. Hettiarchchi, a shop-owner in Kelaniya, said for seven days after the floods no government official had visited him.
"Last week, Grama Niladharis visited my house and estimated there had been Rs. 400, 000 worth of damages to the house but damage to furniture was not taken into account," Mr. Hettiarchchi said. He added that he was not sure when he would teceie any money.
Schoolchildren sitting for the GCE Advanced level examination in a month's time are left without textbooks, uniforms or shoes.
Mother of two, H.A. Shiromi wept and pleaded with the government to at least to give financial help to buy books for her children. "All the money I and my husband earned has been lost," she said.
"I don't even have a pair of shoes or a uniform to wear or books to take to schools. I'm waiting till someone provides me some clothes, books and stationery items to go to school," said GCE O-Level student G.A. Hiruni Nithya.
One worker struck a conciliatory note: "We need to accept the truth that the Grama Niladhari's office has also been affected by the floods but as responsible government officials they should have found alternative methods to help the victims," 27-year-old W.T. Roshan said. Mr. Kodipilli said the DMC had set up a hotline, 1717, that people could call regarding emergency situations in their areas.