Warcraft: The influence of video games on Cinema
View(s):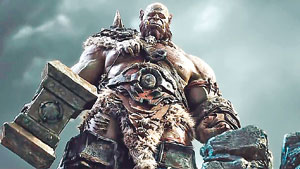 Warcraft, a Hollywood fantasy based on the Warcraft video game series and novels set in the world of Azeroth is now being screened at Liberty Lite, Savoy and Excel in Colombo and other cinemas around the country.
Directed by Duncan Jones and written by Charles Leavitt and Chris Metzen, the film is also based on novels set in the world of Azeroth and stars Travis Fimmel, Paula Patton, Ben Foster, Dominic Cooper, Toby Kebbell, Ben Schnetzer, Robert Kazinsky and Daniel Wu.
The peaceful realm of Azeroth stands on the brink of war as its civilization faces a fearsome race of invaders: Orc warriors fleeing their dying home to colonize another. As a portal opens to connect the two worlds, one army faces destruction and the other faces extinction. From opposing sides, two heroes are set on a collision course that will decide the fate of their family, their people, and their home.
Premiered on June 6, the film was released worldwide including in Sri Lanka on June 10. 'Warcraft' was imported by Liberty Cinemas ltd.