Sketching comics
Text and pix by Dilantha DIssanayake
View(s):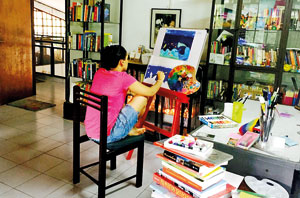 Irushi Tennekoon is an up and coming illustrator whose style can be described as innocent or dream like. While a lecturer in English part-time at the University of Kelaniya she is also studying for a masters degree.
From a young age she would buy second hand books and comics and copy the sketches, remembering fondly the Rs 50 comics purchased in Maradana. She had no formal training other than taking up art for her O Levels. Now she tends to do a lot of sketching whilst stuck in Colombo traffic proceeding to work on the bus. Her style, characters, animals and landscapes have a recurring theme; they are all set in pensive space, floating in the air, riding clouds or waves. She said, "I love poya days as you are able to star gaze, I often sketch on my balcony at home."
After reading a children's book called 'The Little Prince' she decided to sketch the protagonist and herself. The Prince lives on a planet all by himself, so in the illustration she portrays the Prince and her floating through space above the planet with stars in the background. In other illustration she has intricately drawn figures patiently watching the planets or stars. Like in a piece named 'Cloud animals' with two characters, she often portrayed herself in the illustrations observing clouds shaped as a whale and rabbit among others.
She tends to use water colours and acrylics sticking to an A3 format. Of late she has started to sketch digitally after receiving a tablet as a gift. Although she favours the use of paints and brushes she is inclined to use the digital medium for speed and ease.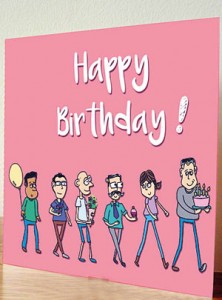 Some years back she illustrated a children's book for a friend called 'Pestering Annie' that she published to raise money for charity. She is currently illustrating two more children's books. She also illustrates personalised cards for clients, family and friends. She receives a short description of the person along with mannerisms, traits and a photograph. She then illustrates the characters to produce a very unique and personalised card.
She was recently contacted by an animal rights activist friend to produce t-shirts with slogans like 'Bowwa Power', 'Ruff Day' and 'Balu Weda' in her signature style, for Embark depicting caricatures of dogs exemplifying the words with a mix of watercolour and digital techniques.
When she sketches she says, "I always look at the basic outline of a figure and start from there." This perhaps gives her ability to capture a person in her own personalised style. The caricatures are unique and playful and can be enjoyed by young and old.