Salvage presents 'Bad to the Bone' for our four-legged friends
By AnneMarie De Silva
View(s):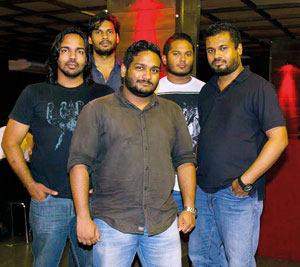 "I think dogs are the most amazing creatures; they give unconditional love. For me, they are the role model for being alive." – Gilda Radner (American comedian and actress)
Sri Lankan rock giants Salvage are gearing up for a concert in aid of Adopt a Dog in Sri Lanka (ADSL) to raise funds for their favourite four-legged friends. 'Bad to the Bone' will be held at Which Way West (at the Liberty Arcade) on June 18 at 7 p.m.
ADSL is a social-media based welfare group that rescues stray animals. The group is currently facing difficulties running their operations due to a lack of funds. Their operations have resulted in Rs. 800,000 worth of bills in veterinary costs, shelter costs and sterilisation camp costs that need to be paid.
Salvage teamed up with ADSL to present 'Bad to the Bone,' a fund-raising concert to help the welfare group continue its operations across Sri Lanka.
The band consists of Chrisantha "CC" De Silva on vocals, Shalinda Halpe on lead guitar, Sajana Bupathi on rhythm guitar, Udaya Wickramage on drums and Suren De Kauwe on bass.  The concert will feature Salvage, former TNL Onstage winners Constellation and The Ringmaster's Jam led by Bernard Boteju from Circus Cult.
'Bad to the Bone' will also feature some surprise acts that, "we hope the audience will love. We've collaborated with these amazing artistes before on an amazing project, and we're sure this one will be a killer performance too," says Shalinda lead guitarist of Salvage.
The Sunday Times caught up with Shoba Wijekoon, team member of ADSL who  said all the team members and fosters are volunteers. "During the floods we saved 25 dogs and pups with the help of Embark." Some of the rescued dogs have already been re-homed, she said.
The other team members of ADSL are Natty De Silva, Nuushani Ediriweera, Amandani Ariyarathne, Manoja Weerakkody, Nicolie Sympson and Yasmine Samarasinghe.
ADSL has fed over 600 dogs in Kelaniya, Kaduwela and Malabe as a result of so many people donating rations at the three collection points after the floods, Shoba said.
The team uses Facebook as a platform to connect with potential fosters and adopters. Although their main goal is to re-home dogs and puppies, they help stray dogs and any other dogs that are brought to their attention via social media. The team works alongside veterinarians and fosters to feed, treat, sterilise and re-home dogs as quickly and efficiently as possible.
'Bad to the Bone' is the perfect opportunity for dog lovers especially those who would like to help but cannot adopt or foster a dog to support ADSL in running their operations, .
Tickets priced Rs. 1,000 are available at Which Way West, Giovanni's, Cult Studios and TNL Radio Station.
For more information on ADSL, visit www.facebook.com/adoptadoginsrilanka