MLH's Empire Ballroom: Perfect venue for dream weddings
View(s):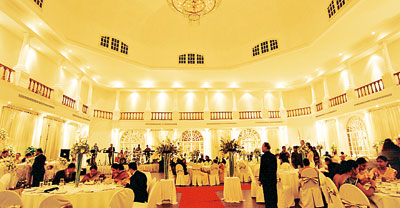 210 years of history, colonial heritage, and the legacy of romance has made Mount Lavinia Hotel a preferred venue for weddings throughout generations. The signature Empire Ballroom has now re-opened to couples following recent restoration.
The magnificent Empire Ballroom, which depicts the colonial heritage of the hotel is the signature banquet hall at Mount Lavinia Hotel. It accommodates up to 400 guests including space for the poruwa, band stand and a separate enclosure for the buffet. The high ceiling with the grand chandelier and tall white pillars, which resonate the legacy of colonial architecture, are the heritage of the Governor's Mansion. The elevated ministerial gallery can seat a small orchestra overlooking the guests, adding to the elegance of the Ballroom.
Mount Lavinia Hotel's fame for being a culinary experience is one of the reasons for couples to choose the hotel for their special day. The prowess of world renowned Dr. Chef Publis Silva, with his 60 years of experience is enhanced by the talented team of chefs led by Executive Chef Kirthi Senevirathne. The team has the expert support of German Chef Michael Goeggerle for Western menus, Chinese Chef Zhiqiang Qui for East Asian cuisine, and Indian Chef Nirbhay Singh for Indian menus. Together they offer an extensive spread of dishes to select from. As the Director of Culinary Affairs, Chef Publis is also available for consultancy if a couple wishes to discuss the menu for their wedding.
"The picturesque locations at Mount Lavinia Hotel attract many wedding couples, both local and foreign. We also have a unique group of clients, whose dream is to wed at the same place as their parents did. Keeping to such family traditions, we often come across couples who are the third generation to tie the knot at MLH' commented Indika Jayawardene, Director – Lavinia Signature. "
For more information call 0112 711 711 Ext. 1425