Erinton at the helm of MAF
View(s):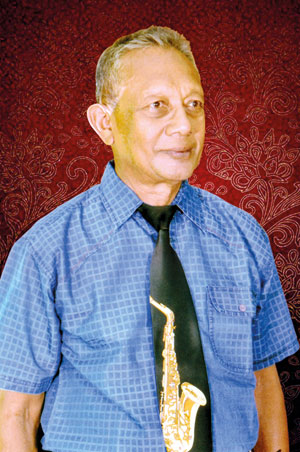 Erinton  Perera, a founder  member  of  yesteryear's popular band 'La Bambas' and presently vice-president of  the Moratuwa Arts Forum(MAF) was  elected  as the President  of MAF at the  recently concluded 22nd  Annual  General Meeting.
The rest of the committee of management elected were Nalaka De Soysa and Thilak de Mel (Vice Presidents), Pimal Fernando (Secretary), Lakdas Fernando (Assistant Secretary), Laksiri Fernando (Treasurer), Suranga Fernando (Assistant Treasurer) with Hemaka Fernando (Immediate Past President). The committee members elected were Gunadasa Fernando, Pemsiri Fernando, Hiran Fernando, Geeth De Mel, Clinton Fernando and Thilak Perera.
Erinton is a soft spoken  person  who  had   always  kept  a low  profile in all spheres  of activity  but had done  immense  work  both in the  artistic  and  in the   social  activity  field without  any  unnecessary  fanfare  . As a youngster he had been  a chorister at Holy  Emmanuel  church,  winning  the singing  prize for five  consecutive  years,  trained by his choir master  the late  Mr. Shelton  Silva  and also  by Rev.  Roy Bower -Yin , Mr. Lylie Godridge and  others . In addition  to being  president  in a multitude  of  spiritual  and  other  welfare  organisations , he founded  the  association  'HelpEd'  in 2007 -  a voluntary  organisation  to  support  needy  children's  education. During  the  last  few years  Erinton  teamed  up  with  the  rest  of  the  La Bambas  bandmates  to  help voluntarily   conduct  scores of  on-going music   workshops  for hundreds of Sri  Lankan  security  forces   and bands in Ampara,  Akkaraipattu, Polonnaruwa ,  Welikanda, Vavuniya  and  elsewhere  in the Vanni districts.
Erinton  had  been  a vibrant  character  in his youth  having  excelled  in sports   such  as   billiards  and  snooker ,  cricket  , table tennis and  angling  . His  twin sons Eranjan  and  Viranjan ,  now  well  in  their  prime,  are highly  talented  and  well  known  performers in the music  circles who   run their  own  audio  recording  studio  in  their   home  premises .
A former  secretary  of  the  Moratuwa  Jaycees  , Erinton  is  a  founder  life  member of  the Moratuwa  Arts  Forum and  regards  his erstwhile  friend , the late great  award  winning  actor  and  founder  president  of  the Forum  Asoka  Peiris  as his  mentor  and  guiding  force as he takes  up the challenging role  as the  newly  elected     president   and  hopes to bring  a new dimension to this unique  movement  with innovative  thinking   while  retaining  the  customary projects   and  programmes    during  his  tenure  as president .