Creating art designs
View(s):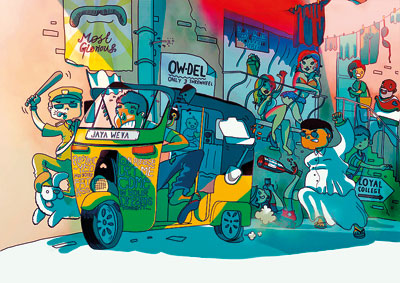 By day Rommel Arumugam is an art director who works on advertising designs for a wide range of clients from packing products to ad campaigns. The work he describes is routine and basic; clients with who he is able to express himself more figuratively are few and far between according to him.
His personal work is born out of the boredom of the mundane local culture that he calls the "fruit basket painting phase, which has to look very traditional". We can all agree the art we see being sold at markets in and around the Colombo city centre certainly have this feel.
His take on native urban cultures, challenges to depict themes and scenes that are otherwise forgotten or overlooked. A case in point is a caricature of an 'achcharu' emporium called 'Podi Daiyya', where he has created a whole range of branding imagery such as logos, posters and pricing boards to contribute gravity and authenticity to his illustrations. The minute detail can only fully be appreciated when viewed solitarily for a long period of time, till the layers are peeled away to reveal a world that has been crafted with adoration and perseverance. He always starts a sketch by hand and then transfers it digitally.
Drawing inspiration from Belgian cartoonist George Remi the creator of Tin Tin Rommel sketched from a very young age, a talent he picked up from his father who worked in advertising. The latter stages of his life are persuaded by fantasy worlds created by George Lucas's "Star Wars" and Peter Jackson's films on the works of J. R. R Tolkien, "Lord Of The Ring." "I am very interested in world buildings, and always buy the special edition DVDs where they talk about how they created these environments."
The world building is evident in a piece named 'Meter Running', which is the artwork and packaging for a card game called 'Tuk Tuk Quest'. Created with two friends from the Geek Club of Sri Lanka, it displays different scenarios and characters within the game. Each character has been given a backstory, thoughtfully created and planned with a very urban feel to the image. The situation has a very Colombo composition; a typical tuk tuk driver is hastily escaping a police officer and politician with a signpost in the background directing you to 'Loyal College'.
Readers will be able to see his designs at this year's Colombo Design Market.