Govt.'s popularity gets a beating; growing concern over failure to tackle corruption
By Our Political Editor
View(s):
 VAT hits millions of people and sends prices soaring
Govt. sponsors Rajapaksa's visit to Uganda amid questions over why no present leaders were invited
One morning last week, Foreign Minister Mangala Samaraweera's mobile phone rang a few times. He was at his official residence at Stanmore Crescent, one of the most secure locations in the City of Colombo, sandwiched between the residences of the Commanders of the Army and the Air Force. Interrupting some of the paper work he was engaged in, he answered.
It was former President Mahinda Rajapaksa who was the caller. He sought the sponsorship of the United National Front (UNF) Government to travel to Uganda.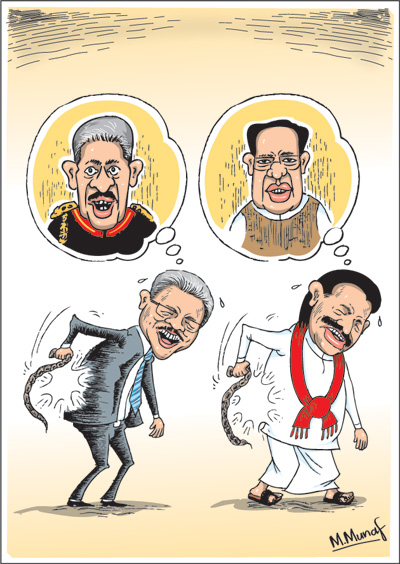 "Ai, Rajapaksalata deng salli nedda? or do the Rajapaksas have no money now," asked Samaraweera. Both of them guffawed. A somewhat lengthy conversation ensued.
The result – the UNF Government gave Rajapaksa a Business Class ticket to fly from Colombo to Dubai since no airlines operating to that emirate had First Class. However, from Dubai to Entebbe (Uganda), he received a First Class ticket. The ticket was valid for the return journey too and cost the taxpayer Rs. 425,000. Other members of his entourage were to pay for their travel. Rajapaksa took part in the inauguration of President Yoweri Musaveni for a fifth term in a tension charged Kampala, the capital, last Thursday. The courts there had issued an order banning demonstrations. The former Sri Lanka President was in the company of Robert Mugabe of Zimbabwe, John Magufuli of Tanzania, Jacob Zuma of South Africa and Edgar Lungu of Zambia. Armed soldiers and riot police ringed Kampala as the inauguration ceremonies took place.
The main Ugandan Opposition, the Forum for Democratic Change (FDC), has declared that it does not recognise Musaveni as the elected President. He polled 61 percent and his key rival Kizza Besigye came second with 35 percent. Local and international observers who monitored the poll said the elections were marred by serious irregularities including vote rigging. Besigye who raised issue over this saying he would go to courts has been placed under house arrest since he "represented a threat to the Government." The Opposition has been left with only social media platforms like Twitter after Musaveni's Government announced a ban on media reporting live on Opposition activities. Any media violating the directive would lose their licence.
Information Minister Muhwezi told the Ugandan media this week, "If there is an order for Dr Besigye not to continue with his defiance campaign, when you give him a platform to speak live to the whole world, then you are defying that order. You are an accomplice. Of course, he will be found guilty, but you will be guilty too." Amnesty International said on the eve of Musaveni's inauguration that "it comes amidst a crackdown on the rights to the freedom of expression, association and assembly."
During the telephone conversation Samaraweera was to tell Rajapaksa that as a former President the Government would extend him courtesies during foreign travel.
This was why protocol assistance was extended when he visited Thailand last month. "I was, however, refused a Sri Lanka High Commission vehicle to travel to a hotel from the London Heathrow airport during your time," Samaraweera declared. Rajapaksa hurriedly responded, "that might have been the work of (former) External Affairs Minister G.L. Peiris." Samaraweera corrected him. He said the then Minister was Rohitha Bogollagama and went on to point out that even former President Chandrika Bandaranaike Kumaratunga was denied protocol assistance.
Request for comfortable hotel
Samaraweera asked that a formal request be made to his Ministry. Rajapaksa's private secretary Udith Sanjaya Lokubandara wrote to Foreign Secretary Chitranganee Wagiswara. He said; "Please be kind enough to facilitate for expenses for food and lodging in Kampala from the 11th of May to the 15th of May as per government specified country regulations." When Rajapaksa's request was under consideration, Lokubandara telephoned Samaraweera. This time, he said, once the former President reached Dubai, he would have to wait for four hours for his connecting flight to Entebbe. He sought a comfortable hotel in Dubai be booked and the expenses borne by the Government. The Foreign Minister then made clear that the Government, as a courtesy to the office of former President, would only provide the travel costs of Rajapaksa. He said all other expenses would have to be borne by him. Then came the snub to Lokubandara's request for a "comfortable hotel in Dubai."
Samaraweera said that President Sirisena was going to Japan at the end of this month. He would be flying from Colombo to Singapore from where he would board a connecting flight to Nagoya. There would be a five-hour wait at the Changi International Airport in Singapore but President Sirisena has not sought any hotel accommodation in Singapore. He had decided to spend the five hours at the VIP Lounge at Changi. Sirisena is due to leave Colombo on May 25 to take part in side events associated with the G-7 summit.
Rajapaksa was accompanied by a four-member entourage. They were Gamini Lokuge, Lohan Ratwatte, Udith Lokubandara and Dhanasiri Ameratunga. Contrary to reports that all of Rajapaksa's Army security detail had been withdrawn, two officers and two soldiers accompanied him. They are Colonel Mahendra Sampath, Major Neville Wanniarachchi, Saman Udaya Amerasinghe and Harsha Wickremarachchi. Even the registration numbers of Army vehicles had been forwarded for prior clearance to enter the VIP area of the Bandaranaike International Airport. From Colombo, they went by Emirates flight EK 349 to Dubai and from there boarded EK 729 to Entebbe. They will return to Colombo today through EK 730 from Entebbe International Airport to Dubai and thereafter on EK 650 to Colombo.
At the highest levels in the Foreign Ministry the talking point was why no Government leaders were invited to the Kampala event. It was Oryem Henry Okello, Minister of State for Foreign/International Affairs who had invited "Mahinda Rajapaksa, former President of Sri Lanka." He said in his letter:
"Your Excellency I send you warm and fraternal greetings from the Government and the people of the Republic of Uganda. In the recently concluded Presidential elections which took place on 18th February 2016, the people of Uganda overwhelmingly gave H.E. President Yowen Kaguta Museveni, another mandate to serve them as President for the next five years. The Inauguration and Swearing-in Ceremony will be held on 12th May 2016 in Kampala.
"I have the honour, Your Excellency, to invite you to join H.E. the President and fellow Ugandans in witnessing the Swearing in Ceremony and to celebrate with us the start of this new mandate. Your presence at this auspicious occasion will provide an excellent opportunity to strengthen the warm and cordial relations between our peoples. While looking forward to welcoming you in Kampala, please accept, Your Excellency, the assurances of my highest consideration."
Ugandan State Minister Okello's assertion that Rajapaksa's presence "at this auspicious occasion will provide an excellent opportunity to strengthen the warm and cordial relations between our peoples" is indeed quixotic. Such diplomatic parlance is used usually in communications between one Government and another. It becomes even funnier since Uganda has chosen to ignore the Government in Sri Lanka and decided to strengthen the warm and cordial relations…" That position, there is little doubt, is one which the Foreign Ministry in Colombo should take up with the Ugandan Government. Firstly Uganda has not invited anyone from the UNF Government. Secondly, it was looking to a former President, now not even a leader of a political party, to strengthen relations. Whether the top bureaucracy in the Ministry of Foreign Affairs is capable of such assertive action remains a question. Those Sri Lankan envoys who were campaigners for the previous Government are still holding sway in the conduct of foreign policy from some important capitals.
Setting a precedent
The UNF Government's move to pay for the airfare of Rajapaksa, no doubt, also sets a precedent. Even if ruling party dignitaries have not been invited, it demonstrates that the former President will be allowed to travel at state expense. This is when he receives official invitations from foreign Governments. Earlier, soon after the presidential election, and again after the parliamentary elections, the Government charged that assets allegedly amassed overseas by Rajapaksa and members of his family would be probed and the monies in question repatriated to Sri Lanka. In London this week, Sirisena appealed to Premier David Cameron for help in this regard.
Even US Secretary of State John Kerry, who visited Colombo last year, offered help to the Government. A Government appointed Stolen Assets Recovery Task Force has functioned since then but it has not been able to produce results in the past one year or more. Though the air fare of Rs. 425,000 for Rajapaksa is a relatively small amount, the question that arises is whether the UNF Government is now acknowledging that the former President needs the money to purchase his air tickets. If indeed that is the case, who paid for the travel and other expenses of the remaining seven members of the former President's delegation, including the security detail, poses an interesting question. Added to that, contrary to the Government's public claim that it had withdrawn armed forces personnel, an Army personal security detail led by a Colonel accompanied Rajapaksa. Some ministers are already set to raise issue at the upcoming ministerial meeting on Tuesday about the Government's inability to bring to book those engaged in bribery, corruption and other malpractices. This week Minister Rajitha Senaratne had a meeting with representatives of civil society groups who complain that little or no action has so far been taken. The role of the Financial Crimes Investigation Division (FCID) figured prominently in this discussion. Later the same night he reported on his talks to President Sirisena.
GSP Plus issue
Another foreign policy issue, talks by the Government to urge the European Union to restore the GSP plus tariff concessions to Sri Lanka, figured at the weekly ministerial meeting on Tuesday. Megapolis and Western Province Development Minister Patali Champika Ranawaka raised issue over the front page lead story of the Sunday Times last week headlined "EU LINKS HUMAN RIGHTS TO TRADE: 58 CONDITIONS FOR GSP PLUS." The report revealed that to regain the concessionary tariff, the Ministry of Foreign Affairs had agreed to 58 conditions linking human rights, national security and other domestic concerns. Foreign Minister Samaraweera was to point out that that some 21 points had been agreed upon during this week's discussions with the EU. However, he said his Ministry would clarify what those issues were and explain the different requirements set out by the EU. This is when it issues a statement on the outcome of the latest round of talks.
As it has become common practice of those in the UNF Government to play the role of spokespersons on any issue, Deputy Foreign Minister Harsha de Silva, tweeted hurriedly that there was no such agreement. Evidently, he was unaware of what his own minister had told the Cabinet of Ministers. Perhaps the aim behind the self-appointed roles by most is to gain media prominence for which there is fierce competition. This is not confined to the EU issue alone. After the names of Sri Lankans holding money stacked in foreign accounts transpired in revelations of Panama papers (see box story on this page), different ministers came up with different views. Each appeared to reflect Government policy but ended up confusing the public. Education Minister Akila Viraj Kariyawasam said action would be taken against those involved. Finance Minister Ravi Karunanayake said not a single file would be suppressed and what was due to the Sri Lanka Treasury would be brought back. On the other hand, his colleague Justice Minister Wijeyadasa Rajapakshe was to note that the disclosures had only come in the media and could not be the basis for a probe. This view was not surprising as Rajapakshe's closeness with one of those named in the Panama Papers, Avant Garde head Nissanka Senadipathy, is now public knowledge.
VAT discussed
Also coming up for discussion at Tuesday's ministerial meeting was the increase of VAT and the hardships arising from it. Finance Minister Karunanayake read out from a lengthy list now circulating in emails that compared to price levels in the previous administration in 2014, consumer items were still cheap. Reading out from the two-page document he said the gas price that stood at Rs. 2650 a cylinder in 2014 was now Rs. 810, the petrol price had dropped from R. 165 then to Rs 117 a litre and wheat flour from Rs. 110 to Rs 90. Speaker Karu Jayasuriya had given him a copy of this list containing comparisons when he attended the Lalith Athulathmudali memorial lecture at the BMICH by President Sirisena.
'Joint Opposition' leader Dinesh Gunawardena wrote a letter to President Sirisena (with copy to Premier Wickremesinghe) urging that a new budget be introduced in Parliament. In the three-page letter he pointed out that "According to Article 148 of the Constitution, control over government finance is vested in Parliament. According to that article, while no tax or other charge can be levied without the approval of Parliament; parliamentary assent is required for any amendment to the estimates passed by the House. Be that as it may, it has been reported that, while the Cabinet of Ministers has decided to slash the approved estimates, action is being taken to charge VAT and National Defence Levy for a raft of goods and services which were hitherto exempt, and to increase VAT by 15%."
At the ministerial meeting Sirisena was to strongly criticise the Chief Government Whip Gayantha Karunatilleke (UNP – Galle District) for not ensuring a presence of MPs when the vote on the supplementary estimate for Rs. 55 million was taken up. Karunatilleke was among those who had gone for a viewing of the film Pattini at a cinema theatre in Borella. The President said that all parliamentarians should be advised to defend the Government's position vis-à-vis the economy and explain why some measures had become necessary. Upon his return from a private visit to Singapore, Prime Minister Ranil Wickremesinghe has also initiated his own inquiry into the matter. A memorandum presented to the ministerial meeting about bonds, President Sirisena said, would be discussed when he returned from his visits to Britain and India.
Former Economic Development Minister Basil Rajapaksa responded to remarks reported in these columns last week. It was Minister Rajitha Senaratne's comments at a ministerial meeting that Basil had, after last year's presidential election, gone to the airport to travel to the United States assisted by a UNP Minister and his personal security staff. Basil said "that is not true. I went in my vehicle with my own security personnel."
The upcoming weeks will pose serious challenges to the Government. The impact of the VAT increase is now being felt. It is no secret that the Government's popularity has taken a severe beating. Civil society organisations have begun their campaign that promises to probe bribery and corruption of the previous regime, an election pledge, has not been fulfilled. They allege that the wrong-doers were being protected by a powerful few in the Government. The much awaited clean up in the Foreign Ministry where loyalists of the previous administration held sway has not changed. The Sri Lanka issue will come up at next month's UN Human Rights Council sessions. It seems business as usual with ministers making their own pronouncements reflecting different views with a leadership unable to curtail the situation. This could only lead to more public discontent and displeasure.
Panama Papers and Lankans: Names revealed in 2013 repeated in Monday's ICIJ release
The International Consortium of Investigative Journalists (ICIJ) on Monday released on its website just a small fraction of names, including those from Sri Lanka, linked to some 214,000 offshore companies worldwide, as mentioned in the Panama Papers.
They are beneficiaries, shareholders, intermediaries together with their addresses and are linked to 21 different jurisdictions. These are the countries in which secret offshore accounts have been held. They include Panama, Bahamas, Seychelles, Samoa, Hong Kong and Switzerland.

What has come to be known as the Panama Papers is a trove of files with the largest volume of insider information data to be leaked by an unknown source, first to the German newspaper Suddeutsche Zeitung. Later, the newspaper sought the help of the ICIJ to carry out a wider investigation into the activities of Mossack Fonseka, a Panamanian law firm with 40 offices worldwide, and was offering tax havens the world over including to Sri Lankans. The firm also offers advice to clients on commercial law, trust services, investor guidance and on how to run business structures.

Mining of data running into 11.5 million files (2.6 terabytes) stretching over 40 years will continue not only at the ICIJ headquarters in Washington DC but also in other centres, including Colombo. Such data will bare much more names and other details. This will mean more stories in the media in the coming days, weeks and months because of the massive volume.
The initial posting on the ICIJ website last Monday gives one an insight into the enormity of the operations that went on under a cloak of secrecy. In this, some names have been repeated, like for example on Sri Lanka. This is whilst the list of addresses run into 104 so far, again on Sri Lanka. File types from spreadsheets, e-mails and PDF to obscure and old formats which are obsolete and the logistics of searching them securely was one of the hurdles during an yearlong investigation, according to Mar Cabra, head of the ICIJ Data Unit. In an introduction to mark the release of the initial dataset last Monday, ICIJ Deputy Director Marina Walker Guevara declared that "The database also displays information about more than 100,000 additional offshore entities ICIJ had already disclosed in its 2013 Offshore Leaks Investigation."

Thus, in Sri Lanka the names connected to Panama Papers revealed so far are only 18. Other than that, an ICIJ investigation into offshore accounts in 2013 where a number of Singapore based firms were involved, 42 Sri Lankan names have been listed. Their names have been repeated in the ICIJ website on Monday. It is pertinent to remember that these 42 names should not be mistaken for Panama Papers. These names have also been erroneously circulated in e-mails weeks earlier suggesting that they were from the Panama Papers. However, they were posted in the ICIJ website even at that time and have now been integrated with the Panama Papers. The ICIJ investigation into their offshore accounts has received wide publicity earlier and has been merged together with those named in the Panama Papers as explained by the ICIJ Deputy Director.

It must be borne in mind that there are legitimate uses for offshore companies and trusts. The Sunday Times does not suggest or imply that any persons, or other entities including in the ICIJ database have broken the law or otherwise acted improperly.
Finance Minister Ravi Karunanayake responded to the names of Sri Lankans revealed so far. He told the Sunday Times, "I will ask the Exchange Control Department and the Department of Inland Revenue to write to every person mentioned in the ICIJ website. They will be called upon to give details of the accounts and the balances they now maintain. They will also be asked how the monies in those accounts accrued to them. In addition I will also direct the Customs Department to investigate whether there has been any violation of laws governing them."

Whilst the banks in Virgin Islands, which have come under pressure from the British Government, have declared they will provide details if sought by investigative arms of Government, others have taken up the position that they will not co-operate in instances where their data have been stolen. Their stance comes as Mossack Fonseka threatened legal action against the ICIJ by sending it a "cease and desist" letter. The firm said in a statement, "Today we sent a cease and desist letter to the International Consortium of Investigative Journalists (ICIJ) regarding its announcement to make public, on May 9 the second portion of the database stolen from our company.

"The letter urges the ICIJ to abstain from this action taking into consideration that it is based on the theft of confidential information and is a violation of the confidentiality agreement between attorney and client, which we must protect. It is important for us to make clear that we operate, in all jurisdictions, under strict compliance with the law and regulations of the industry in all services provided, respecting strong client identification norms……."

Last week, the still anonymous sources behind the data leak broke their silence in a statement to the ICIJ. They said: "Income equality is one of the defining issues of our times. It affects all of us, the world over. The debate over its sudden acceleration has raged for years, with politicians, academics and activists alike helpless to stop its steady growth despite countless speeches, statistical analysis, a few meagre protests, and the occasional documentary. Still questions remain: why? and why now?
"The Panama Papers provide a compelling answer to these questions: Massive, pervasive corruption. And it's not a coincidence that the answer comes from a law firm. More than just a cog in the machine of "wealth management," Mossack Fonseka used its influence to write and bend laws worldwide to favour the interests of criminals over a period of decades."

The Sri Lankans named so far in the Panama Papers are:
1. Kenneth John Pendigrast
2. Yapa Hettipathiranalage Nissanka Yapa Senadipathi
3. Mohamed Siddeek Mohamed Ali
4. Senarath Bandara Dissanayake
5. Min Xuan
6. Jayakody Arachchige Don Marian Srini Pamela Jayakody
7. Palavinnege Sumith Kumaratunga
8. Prasanna Athanasius Sirimevan Rajaratne
9. Tristan Laurens Bernard
10. Nicola Dawn Hankansson
11. Michael Robert Nasmyth MacPherson
12. Aroon Hirdaramani
Mona Hirdaramani and Aroon Hirdaramani as Joint Tenants with Rights of Survivorship
13. Arun Prakash Mahtani
14. Mukesh Khubchand
15. Ng Yin Peng
16. Simon Finch
17. Y.H.P. Kithsiri Manjula Kumara Yapa
18. Christopher Rohan Martin

Those mentioned in the ICIJ offshore leaks investigation in 2013 and whose names have been repeated are:
1. Somasunt heram Mukhunthan and Anne Christine Muhunthan
2. Duminda Mahali Weerasekera
3. Janaki Jagasia
4. Vidya Dilruk Amerapala
5. Surendra Edirirweera
6. Khandaker Moinul Ahsan (Shameem)
7. Shareporp Limited
8. Ijaz Chatoor
9. Murtazaali Avidhussen Hassanally Esufally
10. Imran Ali Akbar Jeevunjee
11. Ahmed Ismail Hossein
12. Jennifer Kathleen Senanayake
13. Shyamalee Champika Ediriweera
14. Esufally Imtiaz Abidhussein Hassanally
15. Senaka Dunuville Senanayake
16. Omprasadham Kanapathipillai
17. Akhter Mohamed
18. Surendra Ediriweera & Shyamali Champika Ediriweera
19. Sanjay Vijith Anthony Perera
20. Aliakber Saifudeen Jeevunjee
21. Sharmila Wahab
22. Christian Ferdinand Fuhrer
23. Esufally Bilquis Imtiaz
24. Niranjan Sunil Oswald Mendis
25. Sanik Networks Limited
26. Nilan Abeywickrema
27. Tushan and Dhammeswari
28. Lasitha Gamini Attygalle
29. Chandrajith Saman Kalyana Jayamaha Hithhamilage
30. Dimitry De Wansa Wickramaratne
31. Udu Wathuwage Jagath Priya Anura Sumathipala
32. Daniel Oritz
33. Tushan Harsha Mendis
34. Balendra Krishan Niraj Jayasekera
35. Jayawardena Welathantrige Shilanth Boteju
36. Hassan Mahmood (Raja)
37. Rohan Albert Ignatius Gomis
38. Aqua Packaging Limited
39. Chandru Swamidas Jagasia
40. Kaluachchigamage Avanthi Kumara Jayatilleke
41. Farida Jeevunjee
42. Kishore Hassram Surtani