Old Thomian trip to Trinitian den
View(s):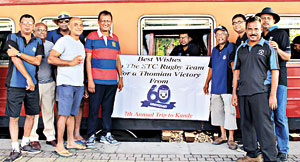 The Old Thomians' Swimming Club (OTSC) is unique in terms of hospitality. It is not only dishing out, the warmth to its members and their families, but extends hand to many visitors, hosts in the club house on numerous occasions.
The Sing – A -longs, and entertainment programmes are not only traditional, but its quality is far beyond comparison.
I being baked in two great institutions, namely Trinity and S. Thomas' was fortunate to have joined the OTSC, Train trip to Kandy, for the Rugby encounter  of the two brother Schools, played for the Late Rev. Cannon De Saram Trophy.
The man behind the scene was Tusita De Alwis, and Chinthaka Hennayake, they simply make things so joyful, and precise. I was picked up, at 6.30 am on Saturday the 23rd, to join the band of 35 plus OTSC members and their families and we embarked on our journey in the Intercity Train to Kandy at 7.00 am.
It was just an amazing journey.  The train started on time, the seats were so comfortable, the scenery was breath taking, so much laughter, the selfie's ,photographs and the voice of ' Koti Wilson' trying to sing in harmony was a breath of fresh air.
I too got my share of being the Sudda type, my friends reminded me of our last outing at which, I asked a village lass to make my egg 'Sunny side up', typical Trinity breeding though.
When the train went into a tunnel, all of us started hooting, school boy pranks, just lacking  only our younger looking faces, we sported during our college days, however memories took us back to the yester years of our school trips.
The Gang disembarked in Kandy, at 9.45am, a town so familiar to me. I cherished the comrade with the ticket checkers on board whichmade us proud of our breeding a tour alma mater, that inculcated the importance of honor and respect to those in authority.
Then the gang embarked for our journey to Pallekeleto watches the great game, between the two brother Colleges.
Trinity, won all the junior games, but lost the Canon De Saram Trophy by 3 points, Thomians looked the better side.
Chinthaka, and Tusita organized a lovely pool party, the best i ever attended, after which we all had sweet slumber.
- Brian Thomas.