Everest Trek blog: Making the journey to Camp 2
Sri Lankans Jayanthi Kuru-Utumpala and Johann Peries who are gearing to summit Mount Everest have already begun their journey. The following is a short description of their progress as conveyed to their support team in Colombo
View(s):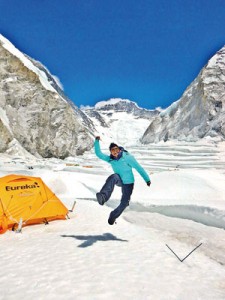 This week we trekked up to Camp 2 (6,400m / 19,685ft).  This involved trekking to Camp 1 (6,000m / 19,685ft), where we stayed two nights for acclimatization, then trekking up to Camp 2.  We stayed at Camp 2 for two nights and did a day trek up to 6,600m – the highest altitude we've ever been to. We were pleased to get to this height and to not suffer altitude sickness.
From Everest Base Camp (HEIGHT), we departed at 3:30am and crossed the Khumbu Icefall, reaching Camp 1 about 6 hours later.  Camp 1 is very basic and food involves snacks and meals that get boilt in water. At Camp 1 the winds were constant – they were blowing all day, and then throughout the night as well!
Trekking to Camp 2 involved leaving at 7am then there was a section involving ladders over crevices and steep uphills until we got to the Western Cwm, which is a gently undulating valley, and it felt like it went on forever.  The surfaces in the cwm can amplify solar radiation, and if it is sunny and windless, the temperatures can rise to as high as 350! We had a windy day so it didn't get hot. We had two nights at Camp 2, and to help with the cold we would sleep in our sleeping bags which are designed for -40 degree temperatures, then double layers of thermals, a fleece top and a goose down top, down socks.
From Camp 2 we trekked back down to Base Camp to finish our acclimatization rotation. We were physically tired when we got back but please with our progress and looking forward to our next rotation which will take us up to Camp 3. In regards to the rotations Jayanthi said: " Getting to Camp 2 was not easy but it was amazing to get there and test our bodies at that altitude. Our next rotation will see us trekking up to Camp 3 where we will spend 1 night – this will be the biggest test of our bodies due to the high altitude there. Also, getting to Camp 3 involves climbing up a blue ice wall – which will be tough."  Johann added "Camp 3 is at an altitude of 7,200m and is going to be a big challenge. We are ready to do this as our final rotation before the summit attempt. God willing everything will go well."