Some crossings to be removed to prevent pedestrian deaths
By Anushiya Sathisraja
View(s):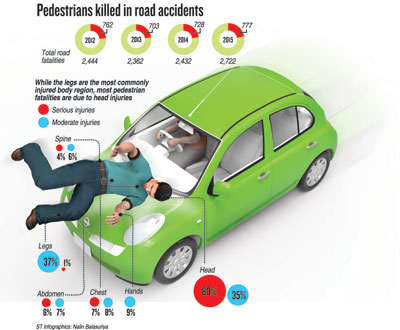 Pedestrians account for more than 75 per cent of the deaths on roads and so many of them die on pedestrian crossings that the authorities are going to remove some crossings to, they say, prevent further carnage.
A Buddhist monk died after being knocked down near dawn on a zebra crossing on the High Level Road at Pannipitiya late last month. The driver of the vehicle was arrested and the car impounded.
In Homagama, an 11-year-old schoolboy was killed on a crossing before his mother's eyes.
A school van transporting the student from the school had dropped him at the Godagama Junction and the chaperone was taking the student across the road on the crossing with the victim's mother waiting on the other side of the road for her son when a speeding SLTB school bus knocked him down.
The National Council for Road Safety (NCRS) has decided to remove 55 pedestrian crossings in Colombo in high-risk areas following a study into the number of accidents occurring of these crossings.
NCRS Chairperson Dr. Sisira Kodagoda said there were various high-risk zebra crossings across the country and that action will be taken to make crossings safer with the assistance of the Colombo Municipal Council (CMC) and the Road Development Authority (RDA).
"We have also observed that many young pedestrians are in a hurry," he said. "The reasons for the increase in pedestrian deaths is the increasing number of motor vehicles, rash driving, motorists driving on zebra crossings and pedestrians crossing roads without waiting for traffic lights to turn green," he said.
"We are spreading road safety awareness with the help of exhibition vans which are sent to educational institutions weekly. Also, we have sent certain proposals for having the walkways improved so that more people use them," he said.
There has been a "significant surge" in the number of people – especially young people – using mobile phones illegally while driving, DIG Seneratne said.
A person using a hand-held device while driving is three times more likely to have an accident, the Head of the Department of Transport and Logistics Management at the University of Moratuwa, Dr. T. Sivakumar said.
He also said faulty road design and failure to strictly enforce the law were two major reasons for the increase in accidents and resultant deaths. "The safety of road users such as pedestrians and cyclists was not considered when designing road infrastructure," Dr. Sivakumar said.
He called for schoolchildren to be educated in road safety by traffic instructors and teachers and for adolescents to be taught the principles of safe driving and good driving attitudes, and be regularly tested on knowledge of traffic laws.
Drivers, on the other hand, needed more awareness of the need to maintain a careful space between their vehicle and pedestrian crossings. "When you drive at speed where you can't stop immediately you need to have distance between crossings." he said.
Experts recommend that before a long journey, a driver must have at least six hours sleep. They also advise drivers and those plans to go on long journey to cut short party time avoid alcohol, finish packing well ahead of time, and map out places where they could have a rest, break or nap and carry plenty of water to drink.
The Secretary of Automobile Association Ceylon (AAC), Dewapriya Hettiarachchi said many inexperienced drivers lacked basic training in driving. The AAC has a driver training school which offers tutelage to drivers in organisations that have more than 30 drivers, Mr. Hettiarachchi said. "We give them 'defensive training' on how to drive without accidents."
Motor car registrations have recorded 2,897 units in February, marginally up from 2,888 units on January and significantly down from 4,138 units 12 months ago. The number was 10,084 units in November and 14,544 units in September last year.
Three wheeler registrations recorded 2,909 units in February down from 3,468 units in January and 7,794 units 12 months ago. This is the lowest monthly registration recorded in the past 5 years, a senior official of Registration of Motor Vehicles (RMV) said.