Garbage in Kolonnawa off to Puttalam in three months
By Damith Wickremasekara
700 Mt will be transferred in sealed containers by train twice a day
View(s):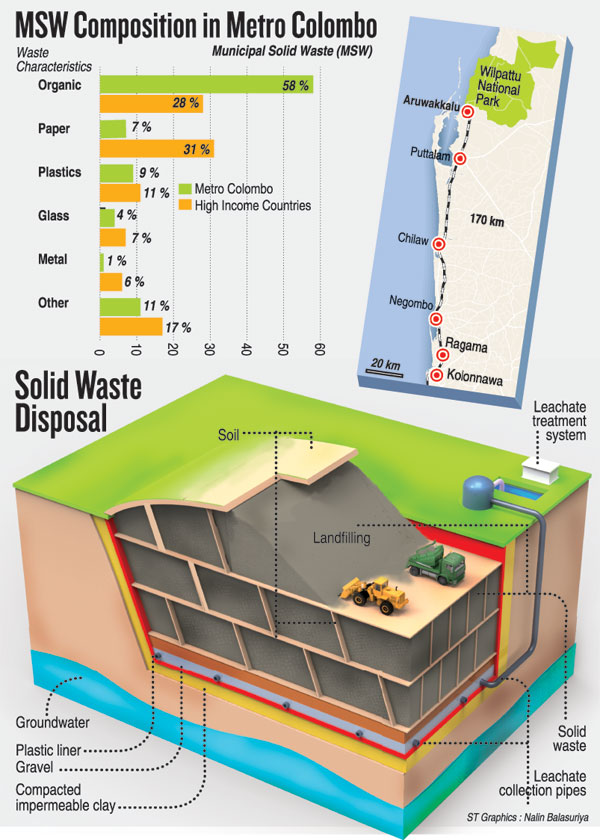 The plan to transfer garbage collected at the Kolonnawa dump to Puttalam will begin in three months under a project costing more than Rs. 15 billion.
The day-to-day solid waste collection estimated to be around 700 Mt will be transferred in sealed containers by train twice a day to Puttalam, Megapolis and Western Development Ministry secretary Nihal Rupasinghe told the Sunday Times.
The garbage will be used to fill up craters spanning an area of three kilometres created following the removal of limestone used for a private cement company.
Earlier the garbage was to be dumped in the Puttalam district in an area bordering the Wilpattu National park, but the plan was abandoned due to adverse environmental impact.
Mr. Rupasinghe said a railway loop laid between Meethotumulla to Orugodawatte will be linked to the main line. Twenty six sealed containers (20ft each) will be imported to transfer the garbage.
The train will do two trips a day with 13 containers being transported at a time.
Before the garbage is transported it will compressed using a machine which will be fitted in Meethotumulla.
However, the existing garbage dump at Meethotumulla will not be removed but will be left to decompose and thereafter a vehicle park will be set up there.
Garbage from other areas including Kandy and Anuradhapura linked by the railway services will also be transported to Puttalam.
In a related development, a committee looking into the garbage issue at Karadiyana, Kesbewa has proposed the setting up of a recycling plant either in the same location or in Muthurajawela. Some 109 companies have already bid for the project.
"If the pressing garbage issues are not resolved soon the Kelani River and the Bolgoda Lake water bodies will soon become polluted," Mr. Rupasinghe said.