Veteran Sri Lankan broadcaster awarded Pakistan's third highest civilian award
View(s):

Veteran Sri Lankan broadcaster and media consultant Mohamed Jamaludeen has been presented Pakistan's third highest honour and civilian award – the Sitara-in-Imtiaz – for his "services to Pakistan".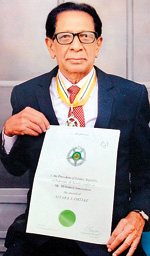 The award was present to Mr. Jamaludeen by Pakistan's President at a grand investiture ceremony in Islamabad on Pakistan's Republic Day, March 23, 2016 in recognition of his commitment to the freedom struggle of the people of Kashmir. He was the only Sri Lankan to have achieved this honour, which is rarely accorded to foreigners.
The citation to the awad says: "Mr. Mohamed Jamaludeen, a Sri Lankan broadcaster (Radio Ceylon), has dedicated his post-retirement life in support of the Kashmir cause since 1991. Born on 23rd March, 1934 in Colombo, he graduated from the University of Lucknow, India. During his stay in India he visited Kashmir as a young student and developed sympathy and affection for the Kashmiri Muslims who were compelled to live in oppressed environment.
"Upon retirement, he established "the Kashmir Study Forum" in the early nineties. The prime goal of this organization was to create awareness among Sri Lankan people about the Kashmir cause. He continued his efforts despite threats from an intelligence agency. Most of his companions left him. However, undeterred, he sustains the organisation singlehandedly. The forum celebrates Kashmir Solidarity Day on 5th February and Kashmir Black Day on 27th October…. He has also published a book titled "Kashmir: An Orphan in the United Nations."
"In recognition, of his meritorious services to the Kashmir cause, the President of the Islamic Republic of Paksitan has been pleased to confer on Mr. Mohamed Jamaludeen the award of "Sitara-i-Imtiaz'.
Mr. Jamaludeen says the presentation of this prestigious award to a Sri Lankan citizen was indeed Pakistan's sincere demonstration of friendship towards Sri Lanka and its people.