Still a magical book
By Kaveesha Fernando
Sybil Wettasinghe's Kuda Hora celebrates its 60th anniversary with a host of special events
View(s):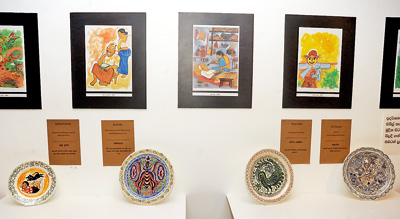 Sixty years ago, a certain children's book was written. This small book, which begins with the story of Kos Mama who went to Colombo to buy his very first umbrella, would win many awards both locally and internationally and bring much fame to its country of origin in the years to come. It would be read by many generations of Sri Lankan children and would win the hearts of them all.
What is the name of this magical book? You guessed it – it's 'Kuda Hora' or Umbrella Thief by Sybil Wettasinghe. To celebrate Kuda Hora's 60th anniversary, an exhibition is being held at the J.D.A Perera Gallery which also celebrates its author's life – this writer/illustrator still continues to create magic at her 'young age' of 88 years and was very much a part of the opening ceremony of her exhibiton.
If you have the chance to meet this wonderful lady, you would understand why the sponsors chose to refer to her as 'young' – because at 88, Sybil Wettasinghe continues to be young at heart.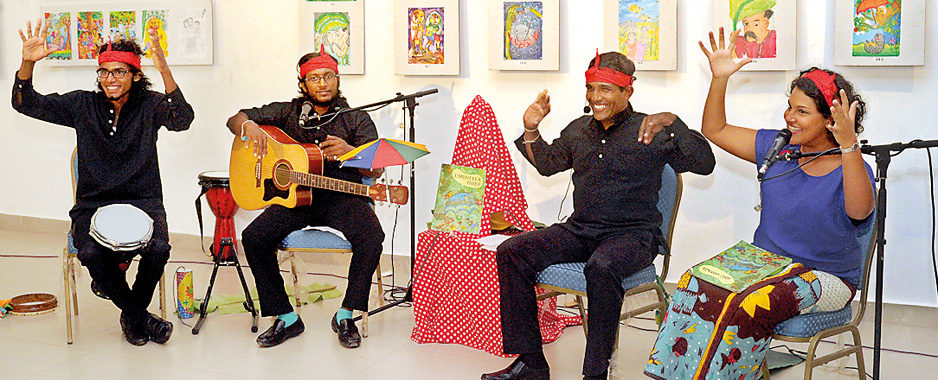 'I didn't think that a small children's book which I wrote would become world famous' she says, illustrating the unprecedented rise of Kuda Hora. She also felt that it was a big honour for the country that a children's book which was written in Sinhala has gained so much prominence globally and felt that all Sri Lankans should share her pride in this regard. She was also happy to note the success of her 'Kuda Hora' in Denmark – the birthplace of popular children's author Hans Christian Anderson – and even became the first Asian book to be translated in the region. She hopes Kuda Hora would remain popular for the next 100 years to come – even after her 'umbrella' has been folded.
Sybil Wettasinghe was born in Ginthota – a small village in Galle, we learn from the exhibition. She wrote 'Kuda Hora' in 1956. First published in the Lake House tabloid newspaper 'Janatha', the book's illustrations won 3rd place in the 'Noma Concours picture book illustrations competition' in 1983 – a competition in Japan. In 1987 'Kuda Hora' was awarded the most popular book award by the Tokyo Children's Library. This book has been published in seven countries, namely – Japan, China, Norway, Sweden, Denmark, the United States and Korea.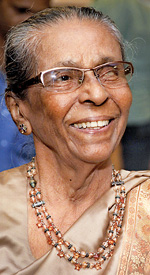 Sybil earned a Doctor of Literature from the University of Visual and Performing Arts in 2012 and has won numerous awards and accolades over the years for her work in children's literature. This includes the 'Kala Keerthi' award which she was granted in 2005 by then President Chandrika Bandaranaike Kumaratunga. She was also conferred a 'lifetime achievement' award by The Editors Guild of Sri Lanka.
The exhibition even features pieces of her glaze painted pottery – done after she learned to paint on this medium at the age of 88! The plates are accompanied by signs which give descriptions of her thoughts on each piece – the ones which she liked, disliked, the colours she preferred using and her favourite themes. It's clear that Sybil Wettasinghe enjoys a challenge.
A lively re-enactment of the story of Kuda Hora by the Power of Play Theatre group brought the story to life for the children present. Unfortunately, there was only time for part of the story to be acted out on the opening day, but the performers promised to act out the entire story in the following days. A thousand children's paintings lined the upper floor of the gallery where the plays were performed – all drawn by children and of their favourite Sybil Wettasinghe book. All in all, the evening was enjoyable for children and adults alike as they celebrated the 60th anniversary of 'Kuda Hora' together.
The exhibition to mark the 60th anniversary of 'Kuda Hora' ends today- April 10 at the J.D.A. Perera Gallery, Horton Place, Colombo 07. It is sponsored by the Midaya Ceramic Company Pvt. Ltd, Rainco Pvt. Ltd and M.D. Gunasena.