Mummified tales of Lanka's ghostly diplomacy
View(s):

UNITED NATIONS – When successive Sri Lankan governments – of all political stripes – continued to appoint a rash of retired army officers as our envoys overseas, a senior career diplomat famously remarked: "if retired army generals can be ambassadors, why cannot retired ambassadors be army generals." Perhaps there was pure unadulterated logic to it – but no political justification, at least for now.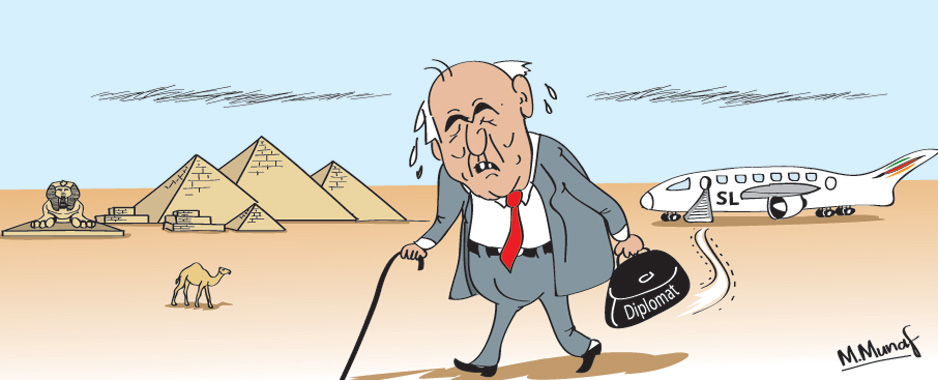 So, when Major General Shavendra Silva was Sri Lanka's Deputy Permanent Representative to the UN with the rank of Ambassador, I told him if he is ultimately appointed to head the country's armed forces one day, he could make diplomatic history: the first retired Sri Lankan ambassador to be an army chief proving fact is stranger than fiction.
In the Sri Lankan diplomatic service, there is apparently never a dull moment –judging by recent revelations in the Sunday Times, including the hilarious story of a newly-appointed Ambassador, accredited to an Asian country, who downgraded his brother-in-law to the rank of a cook just to make him part of the entourage so that the Foreign Ministry can pick up the tab for his travel and his upkeep.
What next? An ambassador taking his wife listing her officially as a designated kussiama—and collecting wages (even though one envoy is known to have taken his mistress in the same capacity to a Western capital and took the Foreign Ministry for a ride, along with her?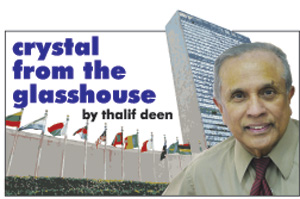 And then we have the story of a Sri Lankan ambassador – a political appointee in an Asian capital – who is in his early 70s proving we have no age discrimination in our foreign service. But that is certainly not due to the paucity of younger professionals in the ranks of the public and private sectors or younger career diplomats in our foreign service. As with earlier diplomatic appointments, history has a way of repeating itself, first as tragedy, then as tragi-comedy.
Speaking of tragedy, successive governments, for some unaccountable reason, kept appointing 70 and 80 year old ambassadors to our embassy in Egypt, some of them dying in office. One ambassador had to be assisted as he stepped out of the aircraft on arrival in Cairo to take up his appointment—mercifully not in a wheel chair.
The Egyptian Foreign Ministry was intrigued as to why Sri Lanka kept posting ambassadors who apparently had one foot in the grave and the other foot on a banana skin. The classic observation came from an Egyptian official who told a Sri Lanka Foreign Ministry official: "The only thing older than your ambassadors are our pyramids and mummies."
Which reminds me when Sri Lanka took a prominent role in the early days of the Non-Aligned Movement (NAM), Prime Minister Sirimavo Bandaranaike (1960-65) delivered a vibrant speech at the first NAM summit in the Yugoslav capital of Belgrade in 1961 with a catchy opening phrase: "As a mother and as a Prime Minster"…
And three years later, in 1964, Egypt was hosting the second NAM summit in Cairo. The Sri Lankan delegation, holed up in a ritzy hotel overlooking the pyramids, was racking its brains trying to come up with an equally catchy phrase for the Prime Minister's speech when Felix Dias Bandaranaike, known for his biting humor, suggested a more appropriate opening para against the backdrop of Egypt: "As a mummy and a Prime Minister".. Mrs B apparently did not find it amusing. Felix got away because he was her nephew. Or so the story goes.
But I digress. Our High Commissioners in Malaysia too were known to pass away while holding office.
At least two of them died in office while a third died less than 24 hours before he could fly to Kuala Lumpur to take up his assignment.
Tragically, the Daily News had a front-page story about the departing High Commissioner while, unbeknownst to the night editor working the graveyard shift that night, the back page of the same newspaper ran the High Commissioner's death notice in the late-breaking obituary column.
As a result of the deaths, there were unconfirmed rumours the High Commissioner's residence was haunted instilling fear into the minds of some envoys who had second thoughts about taking up assignments.
And so was a rumour about the ambassadorial residence in Geneva. Ambassador H.M.G.S. Palihakkara, a longstanding friend, who held the posts of Permanent Representative of Sri Lanka to the UN office in Geneva (2004) and later in New York (2008), sent me a message before he left for Geneva.
Pali, who knew my weakness for cashew nuts, told me he will be carrying some "devilled cashew nuts" which he would mail to New York no sooner he arrives in Geneva. I messaged him back rather jokingly: "Pali, forget the devilled cashew nuts. I'd advise you to take a devil dancer with you to drive the evil spirits from the ambassadorial residence".
But, as usual, he had the last word: when I was in Geneva to cover a UN conference. I had pitched my tent at his residence, along with a couple of Sri Lankan artistes who were in town to perform at the UN that week. As we continued gossiping past midnight, I asked Pali whether the rumour about the haunted house was true. "Yes", he said rather mischievously, "that's the bedroom in which you will be sleeping tonight".
Mercifully, I survived. But as Pali would have it: the spirits took a long hard look at me –and ran for cover.
The writer can be contacted at thalifdeen@aol.com