Doing yeoman service to junior tennis in Sri Lanka
View(s):

Shalini de Silva, once a prominent women's tennis player, during her era in the 90's, and coming from a background, where her father Brian Pereira, grandfather Dr.V.C.de Silva and uncle Rupert Ferdinands, all excelled in the game of tennis, is the only level 2 qualified female coach in Sri Lanka.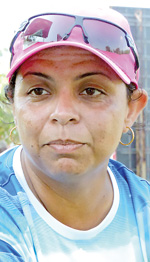 Tennis is an integral part of Shalini's life and when her story took the hearer down to her childhood and back up again through all her prize moments dotting the tennis tenure, one couldn't for a second doubt that this lady had a gift – a gift to play and coach good tennis. Her eyes are focused as she imparts her skill and knowledge, all of which she acquired from experience of playing competitively.
A product of St. Bridget's Convent, she played tennis for her school at the All Island Inter School Tennis Championships and was also involved in Athletics. At the SAF Games 1995 held in India, she was a silver medalist and represented the country in the Fed Cup in India (1995), New Zealand (1997) and Chinese Taipei (2001). In Sri Lanka tennis rankings for 1995 and 1996, she was ranked No.1. One of the spotlighting moments in her tennis career was when she clinched three events, during the 2001 National championships, the Women's singles, Women's doubles and Mixed doubles which titled her, the Triple crown winner for that year.
Though being the only level 2 female coach in Sri Lanka, she was selected as the International Tennis Federation (ITF) touring coach, for the South and South East Asia touring team three years in-a-row: Indonesia( 2004), New Delhi, India ( 2005) and Thailand ( 2006).
Shalini, currently is involved with junior tennis and takes care of under 12, 14 and 16 age categories. Her main concern has been, all these years is how to take the game forward, by making a concrete structure in Sri Lanka to produce competitive tennis players to compete in International circuits. According to her observations, we have the talent and the physicality to compete against International players. Shalini is a dedicated coach, and her aim has been right throughout, is to produce players who will bring glory to the nation, in sport of tennis. Also she lamented, the main stumbling block has been, when it comes to release players from schools for practices, especially for tournaments abroad, the process is a time consuming pain staking one. The process is such that we have to get the required approval from the relevant school and Ministry of Education and it takes quite a number of days. The other concern, she pointed out was, having a much more qualified coach to guide women's tennis in Sri Lanka to the top. She was all praise for the present committee of Sri Lanka Tennis Association, headed by Iqbal Bin Issack, Uditha Wickremasinghe and Sujani Bogollagama, steering Sri Lanka tennis to greater heights.
Shalini will do her best to junior tennis of Sri Lanka as long as she involves with coaching. Tennis is every part of her life, and her husband is none other than former national champion and Davis Cup player Rohan de Silva.