Toyota Lanka's 'Future World 'showcased futuristic motor technology
View(s):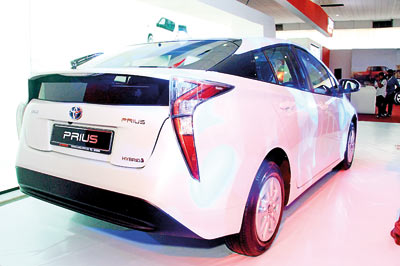 Visitors to Toyota Lanka's 'Future World '-pioneering Future World Exhibition on Toyota Automotive Technology are being given a first- hand information on the future of mobility, and that it is cleaner, safer and more convenience.  Toyota Lanka has showcased a host of automated and zero-emission technologies (green hybrid and future technology) opening a window into a world where "vehicles can not only take care of themselves; they also take care of you".
The 2- day comprehensive motor technology exhibition opened at the Sri Lanka Exhibition and Convention Centre in Colombo on Tuesday, Toyota displayed the vehicle of the future as more than just a mode of transportation with own operational capabilities and deliver comfort, convenience and joy to passengers. .  The design and layout of Future World resembled a futuristic international motor technology show that has engaged visitors with two of Toyota's latest models.
In most cases, those contemplating vehicle purchases only ask for general specifications without knowing how that particular engine or the technology behind the car can add value. Toyota Lanka wishes to change this outlook by imparting knowledge to customers so that they are well versed in the inner workings of Toyota cars and feel more empowered.  Future World has several sections including the evolution Lab, which offered information about technology and engineering, Toyota Genuine Parts, where customers can touch and feel spare parts; Motor oils, to display Toyota approved products; and Pirelli, for tyres that Toyota relies on.