Rolex takes top spot in global brand stakes
By Alvin Sallay
View(s):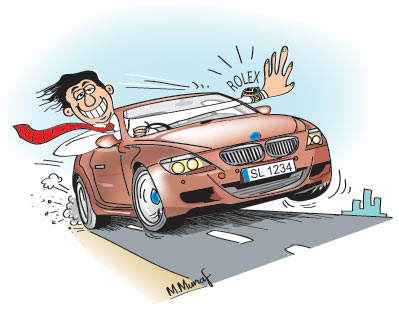 COLOMBO – If you wear a Rolex, drive a BMW and have a Sony music and movie system at home then you must have impeccable taste, for these three brands are among the 10 companies with the best reputation in the world.  James Bond might have preferred a different timepiece on his wrist as he took on the Blofelds of this world, but you can also beat the baddies wearing a luxury watch brand Rolex which is the most reputable company in the world according to the Reputation Institute's annual rankings released last week.  And being a patriot, 007 prefers the British-built Aston Martin, but he has also not been averse to using a BMW from time to time – the marque having pipped its fellow German carmaker Daimler (Mercedes) on the top-10 list and coming in at fourth.
The Reputation Institute (RI) is an advisory management and consulting firm based in Boston that carries out an exhaustive public survey about companies and industries since it was launched in 1997. From the feedback it gets, RI assigns a points system which is based on seven dimensions: products and services, innovation, workplace, governance, citizenship, leadership and performance.  Rolex, the official timekeeper of Wimbledon, has aced the rankings as the most reputed brand in the world mainly because of the Swiss (it was founded in London in 1905 but moved to Geneva after World War II) watchmaker's fantastic high ratings for products and services. It was also in the top 10 of all other six areas giving it an accumulated top score of 78.4.  Rolex jumped three places from 2015 to pole position in this year's poll. In second place is Mickey and Minnie Mouse, or to put it correctly The Walt Disney Company (78.2) with Google third (78.1).
They are followed by BMW, Daimler, Lego, Microsoft, Canon, Sony and Apple.  Other noted brands among the world's most reputable companies: Adidas (12th), Nike (13), Ikea (27), Toyota (31), Hugo Boss (45), Marriott (52, the top hotel brand with Intercontinental at 59 and Hilton at 75), Coca-Cola (83), Air Canada (87, top airline).  The RI survey was carried across 15 markets – from the United States and China to India and Japan and reaching more than 60,000 consumers – is based on the strength of the emotional bond between the company and the general public built around good feeling, trust, respect and admiration.  Public adulation can quickly diminish and turn sour as in the case of Volkswagen. After the emissions scandal that shrouded the company last year, the makers of the Beetle dropped from being the 14th most reputable company in the world to 123rd this year.
Volkswagen, or the people's automobile in Germany, saw a dip across all seven dimensions of reputation with the biggest drop in governance (is it a responsibly-run company which behaves ethically and is open and transparent in its business dealings), citizenship (is it a good corporate citizen who supports good causes and protects the environment) and leadership (is it a company with strong leadership).  All it takes is a whiff of a scandal for reputations to come crashing down. Just ask Maria Sharapova.  Rolex overtook BMW as the world's most reputable company this year jumping from fourth last year to numero uno.  "Around the world (Rolex) has a consistently strong to excellent reputation," Kasper Ulf Nielsen, executive partner at RI, told Forbes magazine. "Being number one in the world – which is a summary of 15 countries – shows that you are strong to excellent throughout the world. It's not enough to be excellent in a few markets."
Does a strong reputation and admiration of the general public translate into more watches being sold or more cars being bought? According to Nielsen, reputation plays a big role in making up the mind of the consumer.  Mr. Nielsen added: "If you stand out as a company that is trusted, you get an accelerated level of support. In a world where companies are fighting for market share, reputation is an avenue to improve the recommendations you get from customers."  Despite losing its top dog status, BMW in Sri Lanka is more than happy with life in general, not surprising when you count the number of Beamers on the road.  "We have a solid reputation and remaining in the top five in a global ranking of the most reputable companies will have an added positive impact," says a spokesman for the company.
It is worthwhile noting that as far as media goes, BBC which has a global standing for unbiased reporting is the most reputed and trusted media outlet in the world. It is the only media company in the 100 most reputable companies in the world coming in at 44. That says a lot for the rest of us.  A close friend of mine, a banker who wears a Rolex as well as drives a BMW (5-Series) believes the snob factor comes into play by having a top brand in your wardrobe or driveway.  "People notice it. They may not care but they notice it. Anyway bankers love watches. They love collecting watches, they love talking about watches. And as for a BMW, it is a classy piece of engineering and is the drivers' car," says my aspiring Bond buddy who prefers to remain anonymous.  Bond armed with these accessories always got the girl. Hmmm, perhaps this must be another reason for my friend to get branded.