"Television is not an art but a business''
By Susitha R. Fernando
Celebrating Silver jubilee in acting; Gihan Fernando presents theatre festival 'Ma Dhakina Mama'
View(s):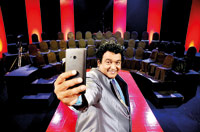 Celebrating 25 years in theatre while playing in a large number of teledramas, award winning actor Gihan Fernando is to celebrate his silver jubilee in theatre in a novel way. A theatre festival from March 31 to April 3 ending with a festival dinner and a stand up show, Gihan Fernando is to celebrate the silver jubilee in the theatre, the medium of art which he loves most.
The theatres festival starting from March 30 will go on till April 3 and Ravindra Ariyaratne's 'Charitha Horu Aran' (Comedy of Darkness), Rajitha Dissanayake's 'Sihina Horu Aran', Ravindra Ariyaratne's 'Balloth Ekka Behe', Priyankara Ratnayake's 'Ada Kale Antigone' and Dharmapriya Dias's 'Sadaya Maarai Salli Hamarai' (Funny Money) will be staged respectively at 7 pm on each day at the Lionel Wendt theatre Colombo. The selection is out of nearly 40 stage dramas played by Gihan Fernando. The festival will end with a stand up show and festive dinner on the final day April 3 at International Girl's Guides' Centre, adjoining Lionel Wendt theatre. The stand up show and dinner starting from 9 pm will have many entertaining items including  Gihan Fernando and actor Kumara Thirimadura's 'Wattala Giha with Maharagama Kumar' show and it would be an opportunity to meet the stars of the plays.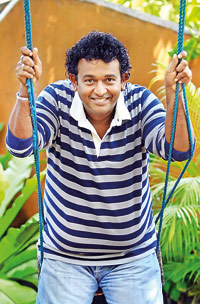 Starting as a student of De Mazanod College, Kandana, Gihan Fernando came to the limelight in 1990 when he won the Best Actor Award at the Youth Drama Festival in 1990. This was for his role in Royston Jude's play 'Rangahala'. Thereafter Gihan played Macbeth, in a play made based on William Shakespeare's ever popular play and this was produced by a theatre group formed in Wattala under the banner 'Wattala Kattiya'.
"I studied theatre under various foreign theatre directors through the British Council and other places. I had the opportunity to play under a number of directors including late Somalatha Subasinghe, K. B. Herath, Rajitha Dissanayake, Ravindra Ariyaratne and Dharmapriya Dias," Gihan said speaking to the TV Times.
With the success in theatre, Gihan was invited to play in the miniscreen and his first teledrama was 'Hiru Kumari' directed by Nalan Mendis. However Gihan does not consider television as a form of art anyway.
"Television is a business. There is not art. The satiscation you get playing in the stage you wont get playing in teledramas," says Gihan who anyway is one of the most sort after teledrama actors today. "Anyway acting is our profession and to make a living we have to play even in the teledramas and Im not very choosey when selecting roles in the miniscreen," says Gihan unraveling the bitter reality of television and teledramas today.