'Manusath Derana won the prestigious JASTECA Gold
View(s):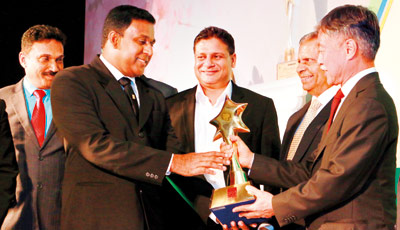 The Derana's CSR project 'Manusath Derana' won the prestigious JASTECA Gold award for Corporate Social Responsibility recently at the award ceremony held at the Hotel Galadari.
Kenichi  Suganuma  Ambassador for Japan in Sri Lanka was the chief guest at the Awards ceremony. President of JASTECA Athula Edirisinghe and Chairman JASTECA Awards Committee 2015 Nihal Seneviratne were also present at the ceremony.
JASTECA annual awards competition is a flagship programme of JASTECA Sri Lanka that identifies best performers in the country who excel in the practice of 5S, Kaizen and Corporate Social Responsibility (CSR).
Further in terms of cultural and management training aspects, the Japanese Language Education Association and JASTECA Institute of Management that function under the umbrella of JASTECA continue to serve the Sri Lankan Society as two best performing training organisations in the country in Japanese Language education and Japanese Management concepts respectively.
JASTECA with the financial support extended by the Ministry of Economy, Trade and Industry of Japan in association with HIDA Japan has trained over 3750 Sri Lankans in Japan through varied management scholarships as well as by tailor-made training programmes fully funded by the Sri Lankan private sector corporates.
'Manusath Derana' is an initiative undertaken by TV Derana to create awareness and come to the aid of the thousands who are affected by kidney disease in the north central regions of Sri Lanka.  'Manusath Derana' has been involved in many community service activities in Sri Lanka for the past few years by successfully helping our community to identify kidney failures and directing them for medications to improve with their health conditions.
Earlier, TV Derana in its CSR initiative Manusath Derana has successfully launched the second stage of the foster parent scholarship scheme "Derane Daruwo" to raise funds to educate children of families affected by kidney disease in Sri Lanka as well.
Marking the 10th anniversary of Sri Lanka's premium entertainment channel, the project aimed to provide scholarships to students in dire need of financial assistance to pursue an education due to the hardships.
'Manusath Derana' also won a Special Achievement Award at the 2015 International CSR Excellence Awards held in Leicester Square, London.