Irish Fest on 'Paradise Beach'
View(s):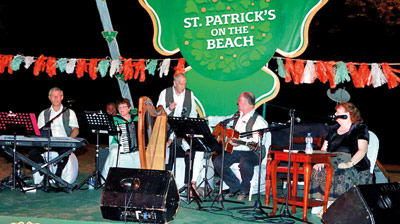 Mount Lavinia Hotel's Paradise Beach is decked in green for three full days for the best Irish fiesta to celebrate St. Patrick's Day. The celebrations, which kicked off on 17 March, continued for three full days.
Bringing the festival outdoor to the Paradise Beach, Irish Festival offered a different experience this year. The atmosphere blends tropical with Irish; food, drinks, music and dance under the starry skies, with feet buried in the golden sand. Topped up with a series of fun-filled games, the festival definitely offers great excitement.
Aer Lingus, the Irish band which is performed at the festival, comes from one of the oldest music societies in Ireland, the Aer Lingus Musical Society. Comprising six members and the group of tap dancers, they add to the fun and frolic of the beach festival.