'Ho Gana Pokuna' passes 100th day
View(s):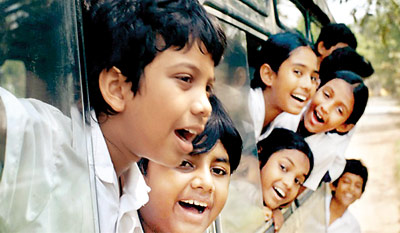 'Ho Gana Pokuna' (The Singing Pond) internationally awarded children film directed by well-known playwright Indika Ferdinando completed 100 days last week. The film that won the Best Feature film award at the 38th Lucas International Children's Film Festival, was a box office success and was one of the crowd-puller movies in the recent past. The international award was won out of 55 children's films presented and 11 films representing 10 countries including Belgium, Iran, Sweden, the Netherlands and Finland that entered the final round.
Starring Lucian Bulathsinhala Jayalath Manoratne, Anasuya Subasinghe, Dayadewa Edirisinghe, Jayani Senanayake, Hyacinth Wijeratne, Sanet Dikkumbura, Geetha Kanthi Jayakody, Ama Wijesekera, Jagath Chamila and a children's cast most of whom made their debut, the film was an inspiring story of a teacher who staged a revolutionary change in a remote village.
A new teacher named Uma, arrives at a school with her piano in a remote village near Dambulla in Sri Lanka. The school has few students, with only the principal (Lucian Bulathsinghala) and Uma as teachers.With the help of Uma, the pupils gradually start to dream of bigger things than they had ever imagined.
One day Upuli, a blind girl, shares her unseen dream with school friends Sukiri and Ukkun. It gradually becomes the dream throughout the village. The children and Uma encounter perils in their venture to realise this dream.The children of the school start to focus on something they have never seen before. This target gives rise to a small revolution.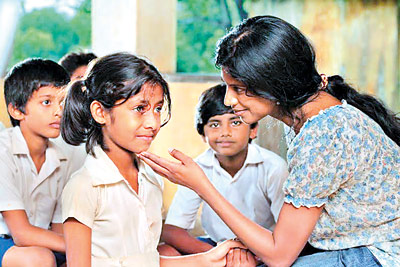 Directed by Indika Ferdinando, the film is co-produced by Kusumsiri Liyanarachi, Yashodara Sarachchandra, Dayananda Liyanarachi, Shyama Athukorala, Bimal Fernando, Nirosha Fernando and Geetha Muthumala.
The principal photography was done by Channa Deshapriya and edited by Thissa Surendra. The musical score was done by young talented musician Dinesh Subasinghe.
'Ho Gana Pokuna' earlier won the Teacher's Choice Prize at the 32nd Chicago International Children's Film Festival and premiered at the Hanoi International Film Festival and Shanghai International Film Festival. It also won the City of Zlin Award at the 55th Zlín Film Festival in the Czech Republic.