Creating her own Designer Sarees
By Vinusha Paulraj
View(s):
Not many can say their first time in saree was the most comfortable experience. For Hiruni Mendis, she was "about 12" when the opportunity to put one on presented itself at Alethea International, where she went to school. "My mother didn't wear it much," she explains, left with just her teachers' utilitarian methods of draping for inspiration. However, her opinion on donning the 6 yards of delicate folds has changed over the years. Today she's among those who "likes wearing saree." Often when the corporate environment brought-out its glamorous side, "I always wore sari to those events."
"If you think about it, it is the only type of clothing that any woman, 16 or 60 continues to wear," Hiruni muses. Making the traditional garment an age-appropriate piece is "just a matter of how it's styled." This is where the designer behind the bespoke sari making label, Kalynda says she went wrong the first time she wore one at "the bakthi-gee" session when she was in school.
This deep understanding of not only her product, but how it sits on the wearer jumps out at us from Kalynda's Facebook page. Anyone who has tried can testify to the struggle of looking youthful while trying to rock a decent floral print. Hiruni's clever incorporation of flowers with nudes- "which are in at the moment" manages to avoid the ever looming risk of looking prematurely aged. "I stick to light fabrics," she says, to allow comfort with even the more novice wearers.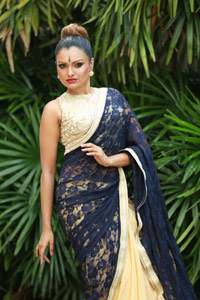 "I always wanted to be in the apparel trade," she shares, taking inspiration from both her parents who are in the industry. While she always wanted  to be an entrepreneur, she took up commerce subjects. "I even chose to do my MBA at PIM," she says where the course is designed to be entrepreneur-friendly.
"You have to have a plan- it takes more than just ideas to generate capital." Working for top-notch corporations in the media and PR sphere was rewarding she admits, but was only meant to be a temporary stint.
Even at this time, her colleagues would consult the her creativity on the all -important decision of "what to wear" and she remembers being able to direct them to places capable of dolling-out the fashion fix they needed.
She left the corporate world in December 2014.  She says and predictably, spent the next few months researching her potential market, or lack thereof since "no one, or very few," she says were undertaking one-piece commissions. Currently she designs for "around 10-20" clients a month, while her mother sews her creations.
Interestingly, given her background in Marketing, "my concept and branding was created before the products." Going with a name that connoted her own, Kalynda means "sun- in Sanskrit" she smiles, the brand came to life mid last year.  All potential pieces are the results of a face-to face consultation.
There's a lot Hiruni gathers from the way one wears a saari and you're required to supply her a recent picture of yourself in one upon consultation. "It's not just the taste" she says, making sure potential clients also supply her with colours they normally gravitate to.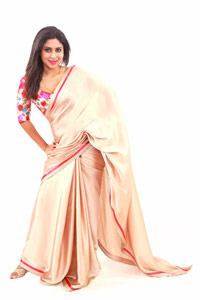 Most of the time mistakes are made when originality is lost she feels. "I'm a Bollywood fan," but making the intricate beadwork topped with thread-work and motifs may not essentially work on a Sri Lankan build. Her personal preference we're told leans on the lighter side, both in terms of fabric and ornate details.
You could check Hiruni's work and contact her via Kalynda's Facebook Page -https://www.facebook.com/kalyndadesigns/?fref=ts
Remaining in scene with trending prints, gorging-out fabrics from some dark corner, and "spending time with my dog" has her contently busy for now. If it must grow she says the business will always be a small-scale operation dedicated to bringing affordable custom made fashion accessible.
You could check Hiruni's work and contact her via Kalynda's Facebook Page: https://www.facebook.com/kalyndadesigns/?fref=ts