'Cannonball Run' at GFH
View(s):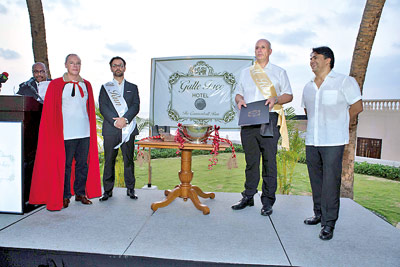 French Ambassador to Sri Lanka Jean-Marin Schuh and German Ambassador JuergenMorhard recently took part in the traditional Cannonball run celebrated by Colombo's 150 year old Galle Face Hotel, which was held last year.
The Cannonball run is an annual tradition celebrated on the Galle Face Green, to commemorate the extraordinary incident of a cannon misfire by a member of the British Artillery in 1845. The 30-pound cannon had misfired during a practice session around the southern ramparts of the Colombo Fort, crashing through the roof of the now Galle Face Hotel, leaving a heavy dent on the drawing room floor where it came to rest under a chair. The cannonball is at present preserved in the museum located in the South Wing of the hotel.
In memory of this 'infamous incident' an annual run has been held over the years, which begins at the cannon on the Fort end of the Green and ends at the cannonball placed on a pedestal in the hotel.
The runners are generally members of the diplomatic community, who, over the years have included the likes of the American Ambassador Robert O' Blake and the British High Commissioner Peter Hayes (2008), Maldivian Ambassador Ali Hussein Didi and Russian Ambassador Vladimir P Mikhaylov (2010), French Ambassador Christine Robichon and Norwegian Ambassador Hilde Haraldstad (2011), Canadian High Commissioner Bruce Levy and British High Commissioner John Rankin (2012) to name a few.